Mans Zelmerlow was the man of the moment in Vienna on Saturday night, and the euphoria surrounding him shows no sign of abating, judging by these scenes on his arrival home in Sweden.
Mans won the 60th Eurovision Song Contest for Sweden, with his slick, confident performance of 'Heroes', which also boasted unquestionably the most striking graphics of the evening. He came out on top with 365 points, beating Russia into second place and Italy into third.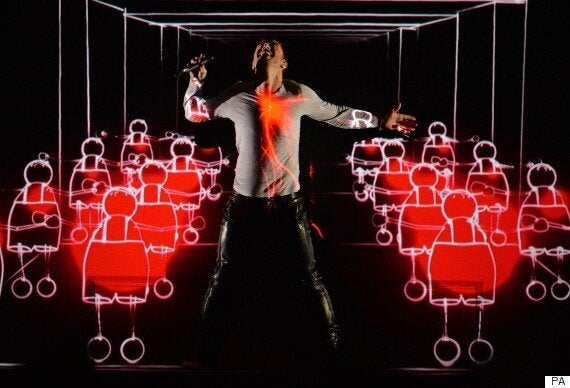 Mans' 'Heroes' was easily the most slick and distinctive performance of the night
On receiving his trophy from last year's winner Conchita Wurst, he continued her message of equality, saying, "I want to thank you all for voting. We are heroes. Whoever we love, whatever we believe in, we are all heroes."
Mans is already a star in his home nation, and looks set for global success now, with the Eurovision audience of 200 million viewers stretching from the UK to Australia, who also enjoyed participating in the contest for the first time. Their entrant, Guy Sebastian, came a respectable fifth place, with his funky song 'Tonight Again'.