Beyoncé confirmed her place as one of the world's biggest style icons this week when she caused an online shopping frenzy.
The singer posted a series of flawless snaps on her Instagram and Tumblr rocking BAW London's Queen Bee Dictionary sweatshirt and the brand couldn't help but notice.
Within a few hours the £60 jumper had completely sold out, but BAW London (which stands for black & white) have now enabled a pre-order option for the in demand piece.
Anoopreet Rehncy, co-founder & creative director of BAW London, told HuffPost UK Style: "I designed the Dictionary Collection with real-life influencers in mind as I wanted people to relate to the personality slogans and the quirky meanings that we have created.
"Beyoncé is 'Queen Bee' because she exudes confidence and isn't afraid of expressing who she is and what she stands for - the essence of being black and white."
Bipan Ahuja, co-founder & CEO of BAW London added: "She has an incredibly talented styling team including Raquel Smith and Ty Hunter (who also wore our Sir Dictionary design). Team Beyoncé were immediately drawn to our black and white concept.
"Beyoncé didn't just wear the Queen Bee design, she expressed the concept of simplicity in a fully styled photo shoot and spurred our brand to go viral worldwide".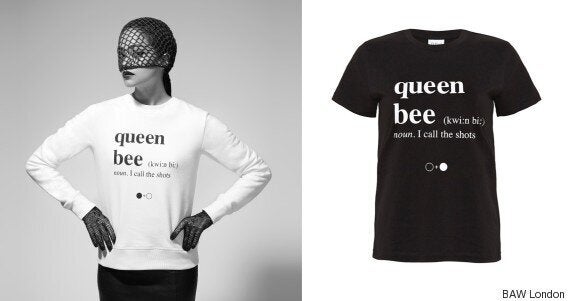 If you can't wait for the Queen Bee sweatshirt to come back in stock, the print is also available in a summer-ready t-shirt style.
Or there plenty of other amazing slogans to pick from on the website (we're particularly loving the Ma'am and Diva designs).
We wonder who will wear Diva...