Goldsmiths' student diversity officer has been allowed to keep her job, despite tweeting the hashtag "kill all white men" and referring to people as "white trash".
Bahar Mustafa has been embroiled in a race row after telling white people and men they were banned from an event at the university. She also then made a public statement insisting she could not be racist as she was an ethnic minority woman.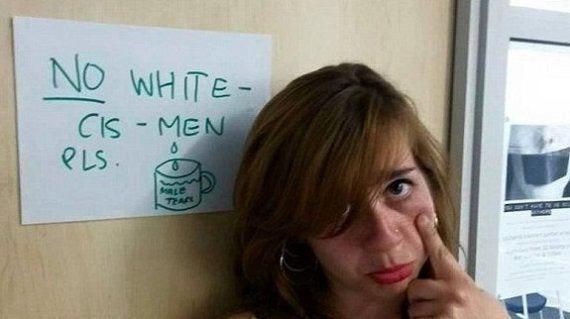 Bahar Mustafa, posing outside a sign which depicts a cup of "male tears"
An online petition calling for her resignation has received more than 21,000 signatures. However a spokesperson for Goldsmiths' student union said not enough students had signed in order to trigger a referendum to vote on Mustafa's job.
"Following actions taken during the occupation of a university building last month, 165 students signed a petition calling for a Vote of No Confidence in Welfare and Diversity Officer Bahar Mustafa," the spokesperson said.
"This represents 1.9% of our 8,000+ members and our rules require 3 per cent to have signed to trigger a referendum."
Mustafa had previously insisted the #killallwhitemen tweet was an "in joke", saying: "It's a way of reclaiming the power from the trauma many of us experience as queers, women, people of colour, who are on the receiving end of racism, misogyny and homophobia daily."
She first landed herself in hot water after banning white people and men from a diversity event at the university. The organisers of the meeting later backtracked, adding "allies now welcome" to the event's description.

Mustafa's message on Facebook about the anti-racism event, which was later deleted
The diversity officer is also currently being investigated by police after a complaint was made to Scotland Yard.
"Police received a complaint on 7 May about a racially motivated malicious communication that had been made on a social media account," a spokesperson for the force said. "There have been no arrests and enquiries are continuing."
Goldsmiths has distanced itself from Mustafa following the incidents, saying she is "not employed by the university" and "not a current student".
Related