Next year, the International Olympic Committee will vote on whether baseball should be re-introduced for the 2020 Tokyo Games. The sport is growing worldwide, and, in Britain, is having a bit of a moment.
Liam Carroll, the recently appointed Great Britain Baseball head coach, has his sights set on qualifying for the Olympics, meaning the team will have to take a giant leap from its current 22nd ranking to being the sixth best squad in the world.
As there is only one purpose-built facility in the whole of the UK - in Farnham Common, near Slough - and the squad gets a measly few thousand in funding a year, many players have to pay for tournaments out of their own pockets. It's undeniable Carroll is going to need some help if he wants to boost the profile of the sport.
And who better to turn to for help than the Major League Baseball (MLB), whose officials are mulling over the prospect of international expansion in order to boost their own reputation?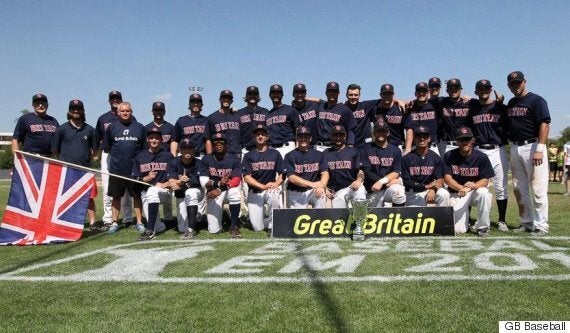 Great Britain's baseball team, pictured in 2013
"If you watch the NFL and what they have done in Britain it's great," Stephen Vogt, catcher for the Oakland Athletics baseball team tells The Huffington Post UK. "It is so important to broaden the global perspective of MLB. We're definitely open to going over to play in Britain. I would love to."
The NFL has proved the Brits are open to American sports, with the burgeoning success of its thrice-yearly games at Wembley stadium - all of which sell out at astonishing rates.
What is perhaps more encouraging, however, is the American baseball teams who are excited at the prospect of playing to a new audience, and acknowledge the powerful impact their presence could have on developing the sport over here.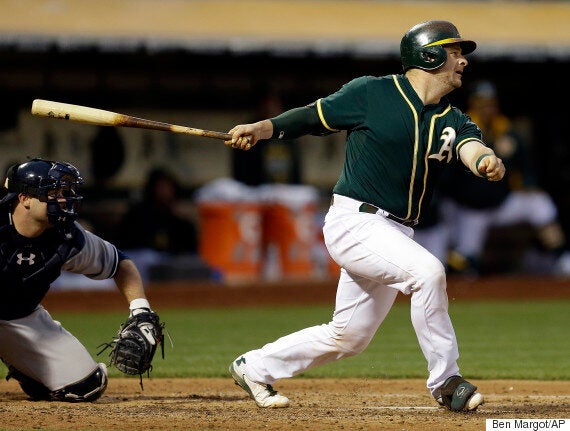 "I'd love to", says Oakland A's catcher Stephen Vogt of the prospect of playing in Britain
"The main goal would be to get a couple of teams to go and play some games," Vogt continues. "It would just generate some excitement in the country. When you're part of a team growing up you learn so much about life. It is such a good opportunity."
Contrary to popular belief, baseball - that wholesome all-American sport - actually originated in Britain, dreamt up by Surrey-dwelling William Bray one Easter Monday in 1755. So why has it taken so long for it to come back home?
Although the MLB has actually been to Britain before, it has very much been on a individual basis rather than becoming a regular tradition.
Writing on HuffPost UK, Matt Smith, founder of BaseballGB.co.uk, points out: "The first known MLB-related baseball expedition to Britain came in 1874 when the Boston Red Stockings and Philadelphia Athletics played a series of exhibition games across the country.
"Future tours included the New York Giants and Chicago White Sox playing at Chelsea's Stamford Bridge in 1924 in front of a packed crowd including King George V, and most recently in 1993 the Boston Red Sox and New York Mets brought some Minor League players over for an exhibition game at the Oval cricket ground in London."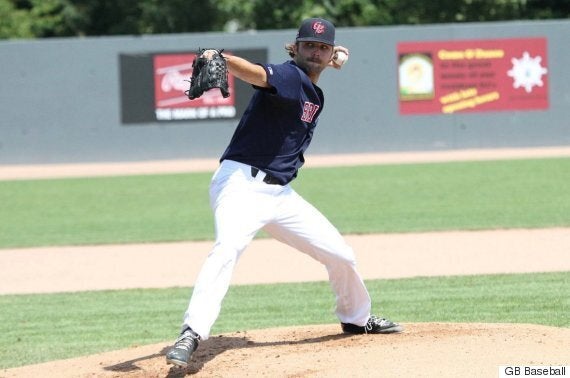 Great Britain pitcher Greg Hendrix
Carroll says he welcomes the news MLB and the player's association are considering staging games in Europe, echoing Vogt's views it would give the UK sport a much needed leg up.
"An MLB game in London is something we've long thought would have a huge impact on the popularity of baseball in Britain," he tells HuffPost UK.
"The success other American sports have had playing here, especially that of the NFL, only strengthens my belief that an MLB game in London would give British baseball a massive boost. So many Brits have become fans and players because they've watched a game in the U.S. or on TV and that would be true on such a bigger scale were a game to be played in London."
Bob Melvin manager of the Oakland A's, agrees. Speaking to HuffPost UK, he says: "Bringing regular season games over would absolutely be a great boost to baseball in Britain.
"As understanding of the sport as I think [the British] are, I think would be a natural fit, I'd love to see it.
"If we were offered the chance to go and play in Britain, I would be 100% for it," Melvin continues. "We went to Japan a couple of years ago and that was terrific.
"I think it would be even better to go across the pond to play in London and show off our game there, and get more interest in it. Absolutely, I'm all up for that."
Former Major League Baseball (MLB) commissioner Bud Selig reportedly expressed his hopes for regular season games in Europe, even as soon as 2015, but this never came to fruition.
John Blundell, the vice president of communications at MLB was rather more reticent about the future of the MLB in Britain, telling HuffPost UK: "Although there are no current plans to play in Britain we are always exploring opportunities to showcase our game on an international platform, whether it be on the professional level or through our grassroots efforts with clinics, showcases and development programs."
In recent years MLB has played regular season games in Japan, Australia, Mexico and Puerto Rico as well as exhibition games in China, Taiwan and Panama. It only seems right Britain now gets a turn in the spotlight - and it appears MLB players agree.
"I think players would love to go out there, especially myself," Eric Sogard, infielder for the Oakland A's, says. "I've never been there and to see that part of the world would be neat.
"To introduce the game and get on the road out there would be awesome for the fans.
"I'm sure it would boost support over there," Sogard continues. "My brother played for the Czech Republic team and he said they seemed like they were having so much fun learning the game. It was neat to see everyone enjoying the game. We play for business here but in the long run it's still a game. I'd love to come over."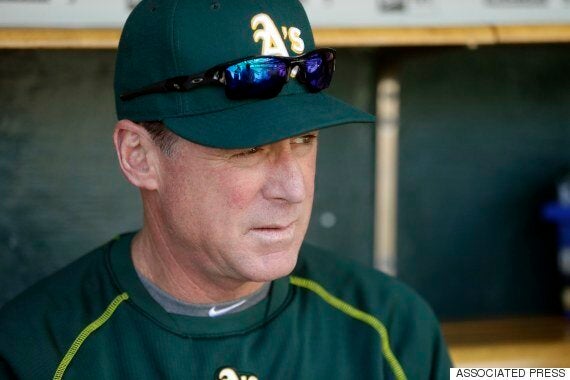 "If we were offered the chance to go and play in Britain, I would be 100% for it", says A's manager Bob Melvin
So what's stopping the move across the pond?
"The hardest part would be the travel," admits Vogt. "It's such a large time difference, you'd struggle with the jetlag. I think it would have to be a pre-season thing. To go right in the middle of the season would be very difficult."
Like Vogt, Manfred acknowledges the difficulty in playing games in Europe due to the sheer distance. "The Western Hemisphere is probably more realistic in that regard," he added.
But Carroll remains hopeful, adding: "If MLB does go ahead with games in Europe then I think whichever country hosts will reap serious rewards in terms of player development. Selfishly of course I hope we're the winners.
"Thinking more pragmatically, aside from what an event like this would do for participation here, there are so many business factors involved. With that in mind, London would be a great choice for MLB to grow their brand and our wonderful sport."
Keep up to date with the GB Baseball team on Twitter by following @GB_Baseball, and the Oakland Athletics by following @Athletics