Ukip's only MP Douglas Carswell claims he feared protesters at a demonstration in London on Wednesday would have killed him, had police not intervened.
Carswell said he genuinely feared for his life after being surrounded by a "lynch mob" with "pretty murderous" intent who he was caught up in while waiting for a bus.
The MP for Clacton said he has been engaging in a peaceful discussion with a small group of people, before being confronted by a larger, aggressive mob of "hard lefties" shouting insults at him such as "Ukip scum".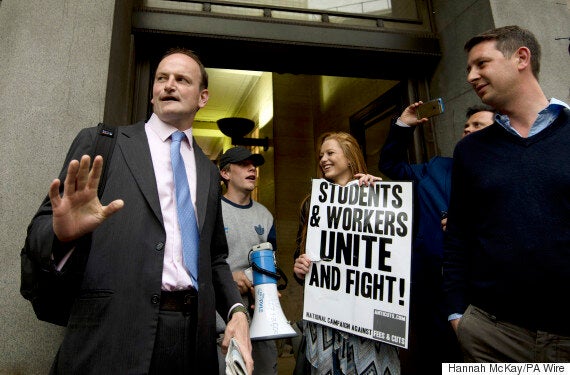 Carswell chats to protesters
Tensions rose and police were called to the scene, where the MP was surrounded, jostled and heckled.
"I was stunned. I think MPs should be able to go about their business," he said.
"It was incredibly intimidating - it was like a lynch mob on the streets of London. I thought this was a country where we had democracy and discussed the issues.
"If the police had not been there I do not think I would be here now my safety was very, very seriously at risk. I have never seen such hatred."
Carswell had to be escorted by officers into the back of a police van as tensions rose.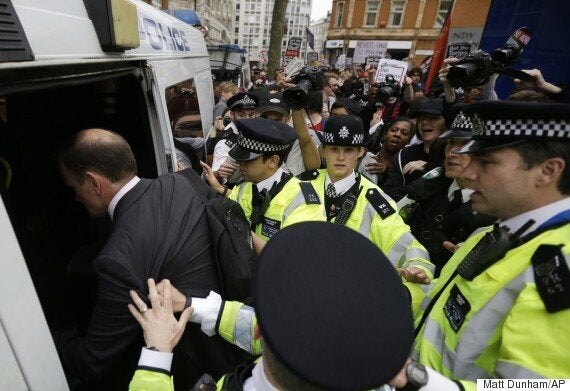 The MP escaped protesters in a police vehicle
The Tory defector has since received messages of support from his colleagues in the Commons, several of whom strongly condemned the actions of some of the protesters.
But some activists' confrontation with Carswell risks overshadowing the protest itself, with around 200 people gathering on the day of the Queen's Speech in Westminster to decry the Conservatives' austerity agenda.
Elliot Corner, 20, who studies classical music at the Royal College of Music in London, was one of those protesting in Trafalgar Square.
"We are here today because we believe that austerity is a failed economic measure and transfers wealth from the poor to the rich." he said.
"We believe the new cuts that are planned by George Osborne are completely unfair and unwarranted."
Police confirmed three arrests were made in relation to the incident, but none are thought to be associated to the confrontation with Carswell.
Related