For 15 years, Norman MacArthur and Bill Novak were legally recognised as father and son.
But on Sunday, the pair, who are aged 74 and 76, got married to each other.
MacArthur and Novak met in their 20s and have been in a relationship for 54 years. But same-sex marriage has only recently been legally recognised in Pennsylvania where the pair live.
To protect their estate and ensure they were afforded certain legal rights, their only option was for one of them to legally adopt the other.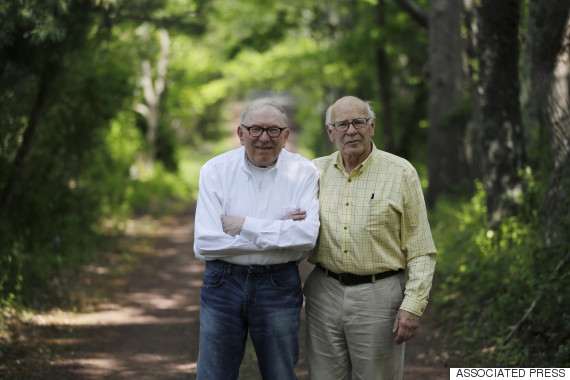 "We went to a lawyer who told us Pennsylvania was never going to allow same-sex marriage, so the only legal avenue we had in order to be afforded any rights was adoption," MacArthur told Yahoo Parenting.
The pair began to consider adoption after moving to Pennsylvania in 2000.
They had previously registered as domestic partners when they lived in New York City in 1994, but were informed that domestic partnerships were not legally recognised when they moved states.
After visiting a lawyer, Novak adopted MacArthur later in 2000.
Understandably, the committed pair were over the moon when same-sex marriage became legally recognised in Pennsylvania 15 years later in May of 2014 and knew they wanted to formally tie the knot.
But getting married wasn't straight forward. On all official documents the pair were still seen as father and son, so they were forced to ask the courts to dissolve the adoption.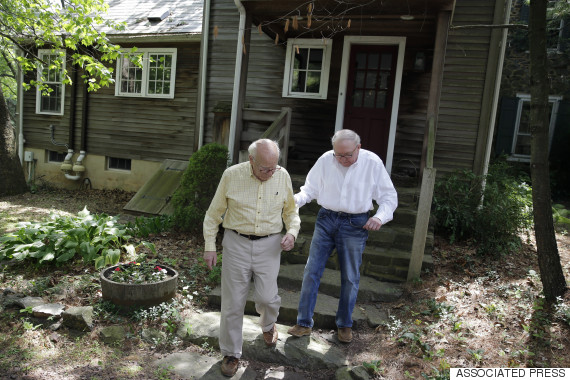 "When we went to court my knees were knocking, but at the end of the hearing Terry [their lawyer] said, 'we're hoping you will sign the order to vacate the adoption from the bench,' and the judge said 'I will happily do that,'" MacArthur said.
"We had 30 friends in court to show that this case was out of the ordinary - though the judge knew that - and when the judge signed the order our friends burst into applause and I burst into tears."
The pair went from father and son to married couple just 10 days later after having a small, private ceremony.
A statement from Clemons, the law agency that represented MacArthur and Novak, said it was the first time a couple in Pennsylvania had ben allowed to dissolve an adoption in order to marry.
It added: "Not only does it pave the way for this couple to obtain a marriage licence, it is an important precedent for others who may be in the same position."
SEE ALSO:

Strangers' Generosity Funds Woman's Dying Wish To Marry Partner