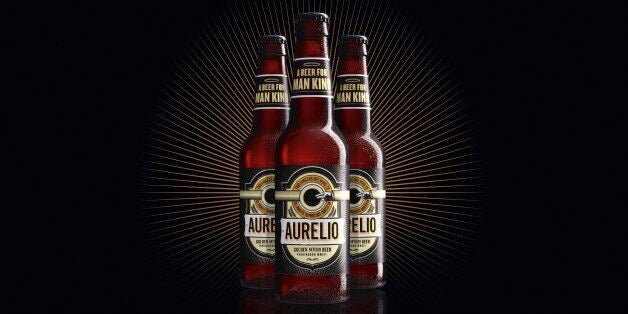 Back in October 2014, Chivas launched a competition to find the UK's most inspirational social enterprise.
And who came out on top in the UK? Two Fingers, a beer that saves lives.
That's the idea behind Two Fingers Brewing Co., UK winners of crowd-funding scheme The Venture. The brand was launched in 2012 by seven friends who worked in advertising together.
"We were moving office a few years ago and found out we would have a bar at our new office," one of the co-founders of Two Fingers Brewing Co, Will Waldron, tells Huffington Post UK. "So we thought we'd make our own beer to sell internally and donate all of the profits to charity."
At the time, the idea was revolutionary and one of the most exciting things to happen in the beer world. There was no social enterprise involving beer, and while some brands donated during certain months (i.e. Movember), this was the first beer brand that would be dedicated to giving 100% of its profits to charity year-round.
The co-founders spent a year setting up a logistics and supply chain, recruiting a brewer in Horsham called Hepworth & Co. (who agreed to brew at cost) and Marston's to cover distribution.
The brand, which aims to "fight prostate cancer, one beer at a time," donates all profits from its flagship award-winning beer, Aurelio - a citrusy golden ale brewed with Sussex pale malt and a dash of crystal malt - to Prostate Cancer UK.
The team decided to simplify things and launch the beer in supermarkets and shops directly, rather than the more traditional route of launching in pubs. Tesco immediately wanted to stock the beer in 200 stores, and Ocado, Morrisons and Booths soon followed suit.
"We had all been affected by prostate cancer in one way or another - through colleagues, family or friends who have had or are suffering from the disease," says Waldron.
"It was really criminal how under-aware people were of prostate cancer. Part of the reason is men not wanting to talk about men's health and men's issues - and the only place where they might talk about it is in the pub, taking the piss out of each other.
"Prostate Cancer UK loved the idea and they couldn't believe how revolutionary it was for a charity to have a product directly benefiting them, rather than running a marathon or something. Our idea makes it fun and lighthearted but not too worthy or harrowing."
Using only the finest handpicked British ingredients in their products, Two Fingers Brewing Co. sold over 80,000 bottles of their craft beer last year - roughly four times the average most craft breweries sell in their first year.
"We thought we had a good business model: men like beer, only men get prostate cancer. The two go hand in hand," explains Waldron.
The disease kills 10,000 men every year.
"One in eight men in the UK is suffering from this disease and one man dies every hour. I didn't know that a few years ago; it's as prolific as breast cancer in women and doesn't get the attention it deserves, I feel."
After being named the UK winner of The Venture, an initiative which scouts for and rewards innovative social entrepreneurs, set up by Premium Scotch Whisky brand Chivas Regal, Two Fingers Brewing Co. will go head-to-head with 15 other shortlisted start-ups in the global final in Silicon Valley, San Francisco, on 24 July.
Being crowned the UK winners of The Venture has been a great step for the brand's future: the £10,000 they won has already gone towards the brewery developing their next drink, a lager. Now the brand hopes to secure a portion of the grant from Chivas to brew more beer, sell more beer and make more money for the charity in the future - Waldron calls it a "beautiful virtuous circle."
"Winning The Venture would mean everything for us. There are a lot of social enterprises out there and they have a business they run themselves or a product that does good for the community, but we've created a product where 100% of the profits are going to the charity, so anyone who invests in us is never going to get a return on their investment," Waldron explains.
"So The Venture is a massive game-changer for us and will hopefully take us up to the next level in the UK and help with our global expansion plan. Without The Venture and other initiatives like it, we wouldn't be able to do more good for mankind."
Two Fingers Brewing Co. will compete to win a portion of $1million in funding, to be used to further the brand's vision and drive distribution by raising awareness (one sip at a time) and expanding their range of drinks to include cider, stout and more.
The brand is also hoping to focus on international expansion and setting up a global foundation to donate to local prostate cancer charities and partner with distributors around the globe.
The team has also launched an Indiegogo campaign in conjunction with The Venture, to help secure them with further trademarks around the world. Further funds will be invested in supply chains, the sales force and getting all of their new products brought to market.
As for other entrepreneurs keen to follow in footsteps of social enterprises like the Two Fingers Brewing Co., Waldron says the key to their success has been people believing in them.
"When you're starting off a new business, you need to have the real drive and conviction that it's going to be a success, otherwise it's never going to work. This would never have happened if we hadn't met all of our partners donating their time along the way, and had Tesco, Morrisons and Ocado believing in us. It goes to show what conviction and an idea and a belief to do good for mankind does.
"In my opinion, it wouldn't be half as successful if we weren't doing good - social enterprise is the most important thing to come out of business today. Businesses that do good are the future of mankind and there are a lot of greedy corporations that should take our advice."
The final ingredient in the brand's recipe for success? Fun.
As Waldron puts it: "There's no way I would run a marathon for a charity but I would drink a beer."
Make up a Chivas x Two Fingers cocktail with the recipe below: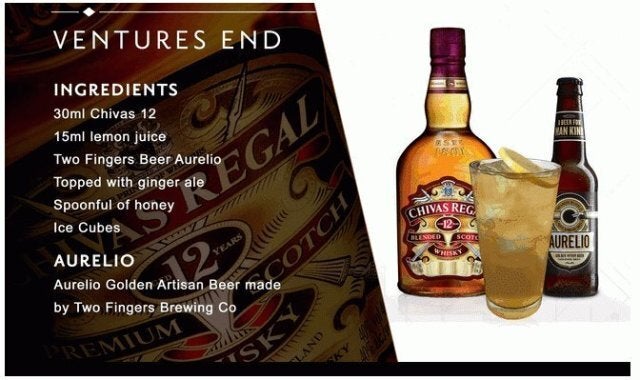 You can also vote for your favourite finalists to win their share of $250,000 of funding at TheVenture.com until 14 June.