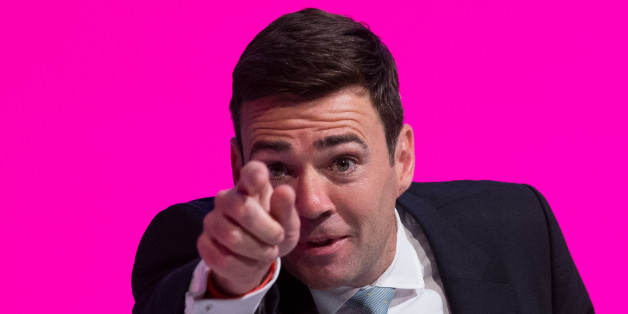 Oli Scarff via Getty Images
Andy Burnham's campaign for the Labour leadership stepped up a gear today as he revealed he now had 51 MPs publicly backing him.
The Shadow Health Secretary also set out to dispel claims that his support came only from the north, unveiling MPs from London and the South now on his team.
Writing for The Huffington Post UK, two Labour candidates who stood in Essex at the last election said that Mr Burnham was the best candidate to win back counties in areas now dominated by the Tories or UKIP.
At the weekend, Mr Burnham became the first candidate to publicly get on board the 35 MPs required to get on the ballot of the leadership election, which will be held in August and September.
The Burnham campaign today unveiled 16 more supporters including two in London - Teresa Pearce and Kate Hoey - and Kerry McCarthy from Bristol and Alan Whitehead from Southampton.
Yvette Cooper has so far announced 31 MPs who are supporting her campaign, while Liz Kendall has 22 supporters and Mary Creagh just six.
Under party rules, a candidate needs 15% of the Parliamentary Labour Party in order to get past the first stage of the election and get onto the ballot paper. The election will take place in August with a winner announced on September 12.
The Huffington Post UK understands that Ms Cooper will take her campaign to Scotland this week, making her the first contender to venture north of the border to understand why Labour was all but wiped out by the SNP.
Earlier today, Ms Kendall surprised her critics by announcing that left-winger Paul Flynn was backing her candidacy.
In their joint HuffPostUK blog today, Gavin Callaghan, PCC for Basildon and Billericay, and Mike Le-Surf, PPC for South Basildon and East Thurrock, said that Mr Burnham was "someone who hasn't just read about working class people in a university textbook but who understands working class people".
The new names backing Mr Burnham today are:
Alan Whitehead
Bill Esterson
Clive Betts
Chris Matheson
Derek Twigg
Kerry McCarthy
Liz McInnes
Mary Glindon
Teresa Pearce
Wayne David
Albert Owen
Iain Wright
Nia Griffith
Kate Hoey
Ian Mearns
Paul Farrelly