Nordic Noir favourite Pilou Asbaek – currently starring in Danish epic historical drama '1864' – is relieved that his director Ole Bornedal "is someone who provokes people", rather being a bland pleaser of audiences.
Pilou, who played spin doctor Kasper in the hit series 'Borgen', tells HuffPostUK: "I love people who go out and say, if cinema is god, then I'm the pope. As an actor working with these kinds of people, the older you get the more you appreciate it."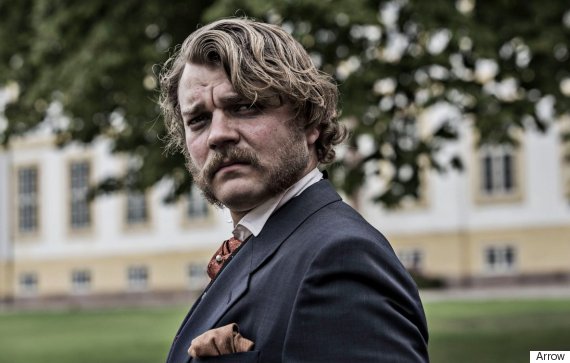 Pilou plays Didrich in Denmark's biggest-budget ever drama '1864'
And Pilou believes that social media is to blame for the way people like fellow Dane Lars Von Trier get castigated in the press for their opinions. He says of Lars' controversy at Cannes which resulted in his being thrown out of the Festival, "If there was a guy suffering for his quotes, it was him. He got so criticised for his sense of Danish humour, which was completely misunderstood. But that's how it is, we live in a time of social media, we have to be more than careful."
Two episodes of '1864' are debuting at the third annual Nordicana festival in London this weekend, and Pilou is the first to say he is enjoying the fruits of a golden age of Danish drama, which has been welcomed around the world, and seen his career take him from Copenhagen to the big screen in 'A Hijacking' and co-starring with Scarlett Johansson in Luc Besson's 'Lucy'. But, he's aware, too, of the bittersweet pill of having such a distinctive, familiar face following his breakthrough as charismatic but troubled Kasper in 'Borgen'.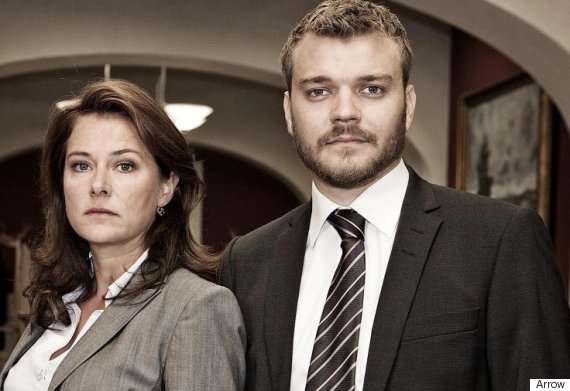 Pilou Asbaek alongside Sidse Babett Knudsen in 'Borgen'
He remembers: "Overnight, I became a public figure. Now I'm a family man, I have a wife, a kid, and that's where I get my energy, but I got very drunk one weekend, and next day the newspapers were full of it, of me not being a good role model.
"I think a role model is a person who says, this is who I am. I love alcohol, I love partying, but I also love my family. Guess, what, human beings are complex."
Pilou follows in a short but impressive line of fellow Danish talents making their name on the international stage, which includes Cannes Palme D'Or winner Mads Mikkelsen, and 'Game of Thrones' star Nikolaj Coster-Waldau. He says, "I wouldn't dare compare myself with those guys, they're so talented and they've done so much for Danish acting. But their success means I'm allowed to do a little bit, and I'm thankful."
He's suitably grateful, too, for the chance to work with Scarlett Johansson - "beautiful, but extremely talented. You don't get to be where she is without enormous talent" – even if a recent sex scene he filmed with the Hollywood star ended up on the cutting room floor. What did he do wrong?
"I think I looked ugly," he responds, before clarifying, "the scene just didn't fit, we needed sympathy for the characters, not random love scenes, unfortunately."
If Pilou's upset that his special moment with Scarlett failed to make the final cut, he's not showing it. "Hey," he bellows, "I was just glad not to get cut out completely."
To coincide with 1864's DVD, Blu-ray and Digital Download release, the final two episodes will premiere at the Nordicana Festival ahead of their transmission on BBC Four. Watch our exclusive clip from Episode 7 above, and the trailer below...
LIKE US ON FACEBOOK | FOLLOW US ON TWITTER