Richard Hammond and James May are reportedly set to turn down an offer of a whopping £4million to stay with 'Top Gear', instead choosing to launch a new show with Jeremy Clarkson.
SEE MORE:
It was claimed earlier this week that the BBC were willing to give both presenters a hefty pay rise, in a bid to keep them with 'Top Gear', following Jeremy's sacking from the show back in March.
However, new reports have now suggested that both Richard and James are staying loyal to Jeremy, and will turn down the impressive offer, in favour of a brand new venture.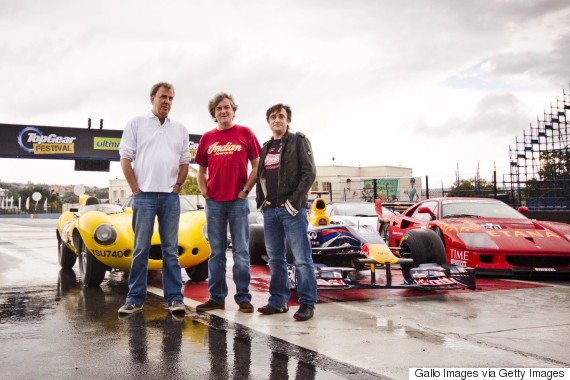 Jeremy Clarkson, James May and Richard Hammond
A source tells The Mirror: "Flattering though it is to be offered huge sums there'll be no going back. It wouldn't feel right and their heart wouldn't be in it.
"They've always said they come as a team and that hasn't changed."
Earlier this year, both James and Richard claimed they had no plans to return to 'Top Gear' without Jeremy, with rumours circulating they're about to sign a deal for a new show with Netflix.
The source continues: "They are all very excited at the prospect of having total editorial control over their new show, to make it and get it distributed.
"It would be groundbreaking and also incredible lucrative. They would stand to earn much, much more than they would with the BBC."
Two new episodes of 'Top Gear' - compiled of footage of Jeremy recorded before his departure, as well as new links from Richard and James, thought to have been filmed in secret - will reportedly air 'within weeks', giving fans of the BBC motoring series one last glimpse of the presenting trio at the helm of the show.
LIKE US ON FACEBOOK | FOLLOW US ON TWITTER