Imagine a world where gorging on ice cream with reckless abandon, while not piling on a single pound, was the norm.
Well, thanks to two brothers, that dream has now become a reality.
Charlie and Harry Thuillier have invented "healthy" superfood ice cream, Oppo, which is not only good for you, but contains fewer calories than an apple.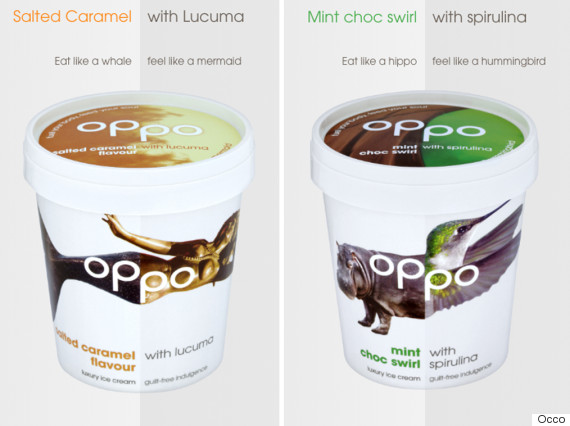 The "all-natural" ice cream doesn't contain any refined sugar and comes in three flavours: Madagascan vanilla and baobab, salted caramel with lucuma, and mint choc swirl with spirulina.
Instead of the traditional ice cream ingredients such as cream and cane sugar, Oppo is made with virgin coconut oil, stevia leaf and fresh milk.
This, according to the Thuillier brothers, makes it "naturally creamy and sweet without the calories and sugar of traditional luxury ice cream".
The brothers came up with the idea for healthy superfood-filled ice cream after they travelled south America in 2011.
The pair set themselves the task of covering the North East coast of Brazil - from Natal to Jericoacoara - on kite buggies, using solely wind power.
After running out of food, and burning more than 7,000 calories on some days, the Thuilliers came across coconut milk, which they began to use as an effective way of rehydrating.
SEE ALSO:

What Is Lucuma?: Healthy Benefits And Recipes For The South American Superfruit

What Is Spirulina?: Health Benefits Of The Superfood Algae That Smells Pretty Potent

What Is Baobab? Including Health Benefits, Tips And Recipes To Try
They soon realised that the coconuts were far more energising than the processed food they'd been carrying, so decided to live off coconut milk for the rest of the trip.
Once they arrived back home, Charlie decided that he wanted to try and adopt coconuts and coconut oil into his diet.
While the oil was once shunned for its high levels of saturated fat, nowadays it's gained popularity and is known to boost metabolism, make you feel more full for longer, brighten teeth and strengthen immunity.
With his newfound appreciation for the superfood, Charlie wanted to experiment further with the ingredient. His first thought: can you still make indulgent food like ice cream without sacrificing taste?
The answer to which was obviously yes.
The ice cream is now stocked by Waitrose, Ocado and Whole Foods in Piccadilly, London. It costs £5.49 to purchase a 500ml tub, and each two scoop serving contains less than 85 calories.
We'll take the lot.
[H/T Daily Mail]