Mötley Crüe's drummer Tommy Lee says it's going to feel like being a single man all over again, when the band finally call it a day on New Year's Eve this year.
Tommy, who's been the drummer in the band since it formed in 1981, tells HuffPostUK he'll be quite happy to "whore himself out" to other bands and artists who ask him for his services.
He says: "Come Dec 31st, and it's not like we've got divorced, but in a way, we'll all be single again. Come New Years Day, I'm going to be a single bitch, and I could possibly whore myself out. If Trent Reznor calls and says he needs a drummer for his tour… I'm there."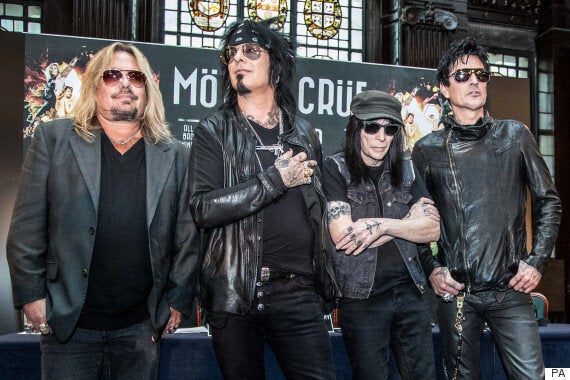 Tommy Lee (right) with his bandmates Vince Neil, Nikki Six and Mick Mars are gearing up for a final farewell
The band are calling it a day after more than three decades on the road and they're so emphatic that this really is goodbye they've tied themselves up in legal knots that prevent any reunion happening at any point.
"Not mentioning names, but there are still bands that are still on their final tour," grins Tommy.
"I called Micky (guitarist Mick Mars, sitting beside him) and said, we have to make sure there's some way and I don't care what it is, whether we have to cut ourselves, how do we make this legit, because otherwise everyone will think, oh they'll be back in five years, and that's not the message, the message is, it's over."
Fortunately, no self-wounding has occurred, instead reams of legal paperwork has ensured it can't happen. How will it be enforced? Mick chuckles, "Financially."
This means Mötley Crüe can never tour again, and nor can any of them take the name and carry on.
Tommy explains this singular decision: "We had to do something in order for people to believe it. And people still say, 'You guys are going to be back in five years," and we say, 'Nope, not going to happen.'"
Mick adds: "It's kind of like when your girlfriend says, 'I'm leaving you,' and you go 'Wait, wait' and you don't quite believe it. But we really are."
So, why's it happening? Both Tommy and Mick admit their managers aren't thrilled with the decision. According to Tommy, it was a case of being gently asked "Are you out of your fucking minds?"
But the bandmates were certain. Tommy says…
"There'd be nothing worse than seeing a band of this magnitude playing in beer gardens to 40 people about 10 years from now. We've all worked way too hard for that.
"This wasn't something we decided overnight. But everything we set out to do, we've done – we came, we saw, we kicked its arse."
So what's next for these most amicably separating of musicians?
For Tommy, it's a little time off, plus a desire to score films, plus fielding those calls from Trent Reznor and co. Mick puts it in more abstract terms – "it's basically like a rich man discovering what it's like to be poor again. It'll be interesting."
Mötley Crüe's final world tour which starts in Austria tomorrow, includes the Download Festival this weekend and continues until their final gig in Los Angeles on New Year's Eve - more information here.