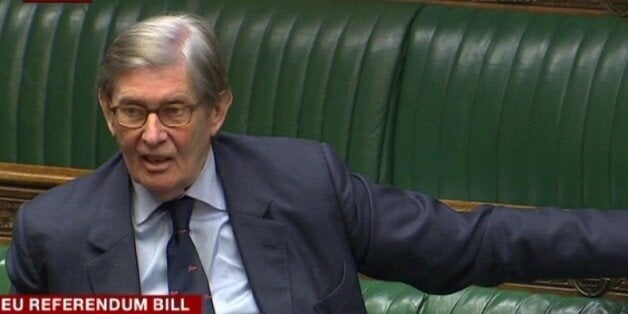 David Cameron has survived his first Eurosceptic rebellion of the Parliament - but only after Labour abstained from a key vote on the EU referendum.
Veteran backbencher Sir Bill Cash and senior former Cabinet minister Liam Fox joined forces as around 25 Tory rebels voted to stop the Prime Minister from 'rigging' the poll due in 2017.
Although the SNP and smaller parties voted with the Eurosceptics, Labour's decision to opt out of the vote meant that Mr Cameron survived with a majority of 191.
Just six weeks into his new Government, tonight's result was seized on by critics as proof that Tory divisions over Europe could haunt the Prime Minister just as they did John Major.
If Labour had voted with the rebels, Mr Cameron's slender Government majority of 12 would have been wiped out.
Sir Bill dragged himself from hospital to lead the rebellion, which centred on plans to suspend normal 'purdah' rules which prevent Governments from unfairly influencing referendums.
The Eurosceptic, one of the Tory 'bastards' who dogged Major's premiership, was suffering from a serious foot injury but he was granted rare permission to sit down as he spoke during the Commons debate.
Normally MPs are not allowed to speak 'from a sedentary position', but Deputy Speaker Lindsay Hoyle allowed Sir Bill to sit down because he had been in hospital for the last four days with a form of blood poisoning.
Three former Welsh Secretaries - John Redwood, Cheryl Gillan and David Jones - all voted for the Cash amendment on the European Referendum Bill, which gives legal force to his plans for a poll by the end of 2017.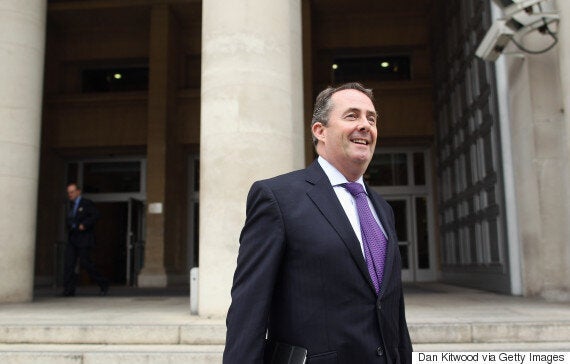 Liam Fox told The Huffington Post UK that "I felt I had no choice" but to vote against his party whips for the first time in 23 years as an MP.
Earlier he had told the Commons that its plans to suspend purdah rules risked setting a dangerous precedent.
"It is unseemly at best for the executive to exempt itself from the legal, electoral and constitutional arrangements that it finds inconvenient during any electoral process.
"The fear in this debate is that the government, at all levels, central and local, can use taxpayers' money to support one side of the debate, potentially changing the course of that debate."
Nigel Farage was quick to pounce on the vote.
Former UKIP MP Mark Reckless tweeted that the Opposition had a bigger aim.
In a last-ditch bid to head off the revolt, Europe Minister David Lidington today promised that the Government would not post mailshots, produce adverts or send emails in the crucial four weeks before the referendum.
Mr Lidington offered an olive branch to Tory MPs by pledging to bring forward some changes when the bill returns for its Report Stage in the autumn.
The minister said that a solution could be either a tougher Code of Conduct for ministers and civil servants or new wording in the bill to restrict 'certain communications'.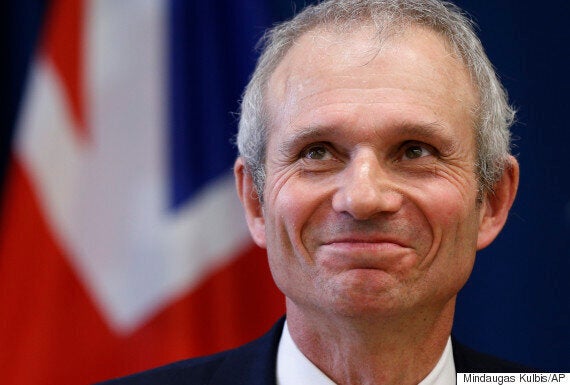 Mr Lidington stood by plans to suspend the 2000 Political Parties and Elections and Referendums Act, claiming that it would impose a blanket ban on all government activity.
The Act was so out of date that it didn't even cover the rise of Facebook and Twitter, both of which could figure prominently in the referendum campaign, he added.
But Sir Bill and other Eurosceptics rejected the Government offers of compromise, warning that the simplest solution was to stick to the current law but add exemptions.
Even normally pro-European former Attorney General Dominic Grieve said that ministers had behaved in a 'strange and cack-handed way' in overturning normal 'purdah' rules.
Former Cabinet Minister Ken Clarke, who accused his Eurosceptic colleagues of 'paranoia' today, noted that his old foe did try to stand up to intervene on his own pro-EU speech. "I'm delighted that my Right Honourable Friend is able to stand when he's passionate about a subject," Clarke joked.
Sir Bill hit back with a reference to Clarke's own famous footwear. "His rather Hush Puppy approach to this, that there's really nothing to worry about...is wrong".