'Love Island' contestants Jonathan and Hannah have admitted that they did have sex during a night alone in the villa's 'secret hideaway'.
SEE MORE:
The couple, who previously said they're now boyfriend and girlfriend, sneaked off for some alone time during Tuesday night's show, where it appeared that they had officially consummated their relationship.
Hannah confessed that she and Jonathan did have sex the following morning, revealing in the Beach Hut: "Last night one thing led to another and we did end up having sex.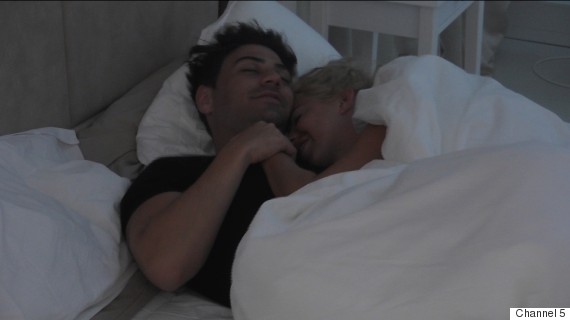 Hannah and Jonathan, the morning after their tryst
"It might just be two weeks but in here if you spread that out over time it's a lot of time. I've got feelings for him. I'm in a relationship with him now. I hope to be in a relationship with him when we leave. It just felt right, so I didn't want to stop it."
Jonathan had similar feelings, telling Hannah they had "christened the house", and admitting in a private moment: "The 'L word' is not out of the question but let's not run before we can walk. We have officiated it."
ITV2 director Angela Jain had initially initially claimed they wouldn't be showing any sex scenes in 'Love Island', saying: "I don't really want to show that kind of stuff. What we are looking for us romance.
""It is not the act that is interesting it's the reaction. That's the story. It's on at 9pm, not 11pm. Showing people sh*gging is pretty boring."
Hannah and Jonathan's relationship caused a controversy last week, when it was suggested that the two knew each other before the series began, leading to rumours of a fix, which producers were quick to deny.
Watch the rest of the islanders' reaction to Hannah and Jonathan's night of passion in Wednesday night's 'Love Island', at 9pm on ITV2.
LIKE US ON FACEBOOK | FOLLOW US ON TWITTER