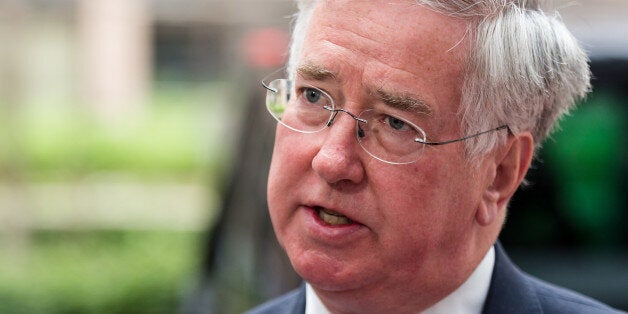 British taxpayers' money earmarked for international development should be used to stem African migrants fleeing to Europe against the crisis on the Mediterranean, Defence Secretary Michael Fallon has said.
He told the BBC's Andrew Marr Show there was a need to "break the link" between rescuing people from capsized boats and migrants settling - otherwise "they'll keep coming".
The minister said that "well-focused aid" to crackdown on trafficking people from Africa to Europe would reduce the need to "fish people out of the Mediterranean later on".
Mr Fallon also told the show the UK Government would "comfortably" meet the Nato 2% of GDP defence spending target - but refused to make the commitment for the rest of the Parliament.
European ministers will meet on Monday to discuss the crisis that has seen thousands of migrants dying at sea.
The Royal Navy flagship HMS Bulwark, which has been helping in the search-and-rescue missions since April and has saved some 2,500 people, will be replaced by the smaller HMS Enterprise.
The minister said the issue was "a European problem", adding overseas aid should be focussed on stabilising the countries that migrants were fleeing from.
Mr Fallon has previously said the separate defence and aid budget should be combined to help meet the 2% target.
He told the broadcaster today: "Well-focused aid should be used to help stabilise these countries, to prevent conflict breaking out, to discourage mass migration so we don't have to fish people out of the Mediterranean later on."
He continued a "more comprehensive approach" included "dealing with the trafficking gangs" who are "making money out of this incredibly dangerous journey".
Mr Fallon said ensuring a functional Libyan government was necessary in order to allow European nations to send back migrants.
"We have to break the link between rescuing people from the Mediterranean and settlement because they'll keep coming if they think they're going to be settled," he said.
Asked whether the Nato commitment to defence spending would continue against a looming round of cuts, he said: "The figures that are going to be published this week at Nato will show us comfortably over 2%."
Pressed whether that would continue to the end of the Parliament, he fell short of a pledge. "I want to fulfil our commitments," he added.