As part of the #BritsBlitz series, HuffPost UK Entertainment are charting the rise of the hottest British stars, who are flying the flag around the world. Now, we're turning our attention to FKA Twigs, who came to our attention with the release of her much-hyped debut 'LP1', in August 2014.
Before stepping into the spotlight, the singer - quite literally - lurked in the background of the musical world, waiting for the right moment to launch her career as a solo artist. When she did, fans and critics on both sides of the Atlantic stopped to listen, and pay attention. Here's how she did it - and why twigs is just the sort of export that the UK needs…
Twigs spent the first 16 years of her life known as Tahliah Barnett, growing up in Cheltenham and attending a private, Catholic school, before moving to London to become a backing dancer. This part of the tale is told often, as it was here that thanks to her cracking joints, twigs earned the nickname that would later become her stage name. Later at the request of the American band twigs, she added the 'FKA'.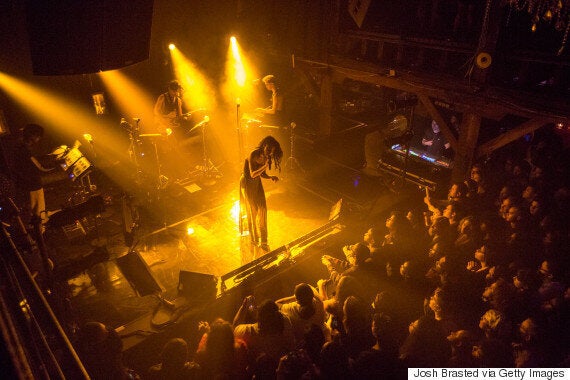 FKA Twigs on stage in New Orleans, in November 2014
The fact dancing gave twigs her name often means it's pegged as the reason for her move to London, but in fact twigs has stated she "couldn't imagine doing anything else" other than music. She still trains every week, but dropped out of dance school just weeks after starting.
Music actually came long before, as she explained to Pitchfork, saying: "I started writing seriously when I was 16. I grew up in a place called Gloucestershire; my dad is Jamaican, and it had quite a large Jamaican community. There was a youth club there with a low-key studio, and they'd have guys rapping, and I'd put the chorus down on the track."
Nevertheless, twigs became known in the industry as a reliable - if noisy - dancer, and she went on to star in videos with Kylie Minogue, Ed Sheeran Jessie J. It's Jessie J's 'Price Tag' vid that is commonly cited by critics recalling twigs' previous career, and it led to her first, "are you that girl…?" comments on the street, which later inspired the track 'Video Girl', in which she coos: "Was she that girl from the video?/[...]The camera's on you, ain't that enough?"
"It got to the point where my fees were double the other girls', and I wouldn't even have to audition," she told Pitchfork. "They'd call my agent directly and say, 'We want twigs to come in.' I had a reputation for being reliable. When the camera was on, I'd be the one-take wonder, so a lot of directors liked working with me."
However, she didn't exactly enjoy the work. "I fucking hated it," she recalled to the Observer. "Do you think I want to be dressed up as a puppet? As a doll, waving? No. But I was paying my dues. I'm sure Jessie had to do rubbish jobs as well before she was where she is now. I was a tiny cog in her wheel. As I'm sure at some point she was a tiny cog in someone else's wheel."
Twigs' dancing career came to an end in 2012. Months before she self-released her first music online, she graced the cover of i-D magazine, a sure sign of the success, and attention, she would later receive. The shoot was conducted by Matthew Stone, who spotted her on the bus, and he became one of the first commentators to draw comparisons to Bjork, explaining that twigs has "this crossover appeal but actually has an amazing experimental, transgressive and creative approach to her music".
"What makes her so interesting is that she knows what she wants," he continued. "When we worked together on that i-D cover, even before she'd released her music, twigs had this self-awareness and strong vision of where her work would be going and a confidence in her own career and her own creativity – I knew that wasn't going to go away."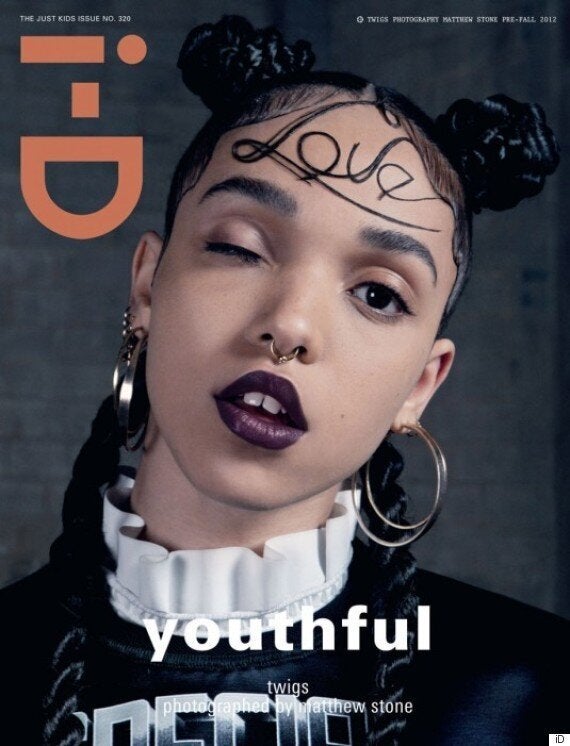 When twigs released her first tracks, on 'EP1', a video accompanied each one. With her delicate yet powerful, high-pitched voice, and visuals created with director Jesse Kanda - that YouTube deemed worthy of age-restriction notices for being sexually explicit - twigs captured everyone's attention, and perhaps more importantly, given the disposable nature of today's culture, held our gaze.
By 'EP2', twigs had been snapped up by indie label Young Turks, and 'How's That' was released as the EP's promotional single in May 2013. By this point, twigs had landed ample column inches in Dazed, The Observer, Consequence of Sound and DIY, even though her full debut album didn't have a release date, let alone a cover or name. Those who spotted her on early on could start nodding and saying 'I told you so'.
Then, 'Water Me' was released as the EP's second single, and the video that accompanied it went viral, totting up over five million views on YouTube in a matter of weeks. The clip shows twigs' staring straight into the camera, unblinking, as a single tear rolls down her cheeks, while her eyes grow. In late 2013, she was named on the BBC's Sound Of 2014 list, but went on to miss out on the title to Sam Smith, whose global success is well-documented.
What makes twigs so fantastic - and worthy of worldwide attention - is that she's a breath of fresh air, and creativity, while a number of British exports (yes, I mean One Direction and the like), are impressive, but not exactly a driving force when it comes to innovation, and performance. Are we really going to sit up in 10 years time, and hail 'Four' as a masterpiece? Or recall how the 'What Makes You Beautiful' video inspired countless artists? I appreciate 1D's significance in the music world as much as the next teen fan, but they're certainly not a creative tour-de-force. Twigs didn't get to where she is by amassing thousands of teen followers, she did it the old-fashioned way, with years of success and hard work.
Twigs not only writes her own songs but produces them too - a point, she's observed, that people often need reminding of when the artist is female - along with co-directing most of the accompanying videos. "Two years ago, I couldn't produce [music]; I learned how to do it in literally two years," she told Rookie in 2014. "I found it really difficult to program when I started, then I had this leap of confidence to actually get in front of the computer and learn how to do it. It was a massive challenge, because I am not a very logical person at all. It's about facing your fears. If you do that, you realize that you can actually do anything you want to do! It's been the most liberating experience."
She worked with the legendary Paul Epworth on 'Pendulum', but retained creative control, and her tracks are worlds away from results of Paul's studio sessions with stars such as Adele, Coldplay and Florence And The Machine. Her songs are overtly sexual, and twigs plays with the gender, power and sexuality. On 'Water Me', she whispers, "He won't make love to me now/ Not now, I've set the fee", then later on 'Hours': "How would you like it if my lips touched yours, and they stayed closed, baby 'til the stars fade out? / How would you like it if I suck before I bite but it wasn't too hard so it felt alright?"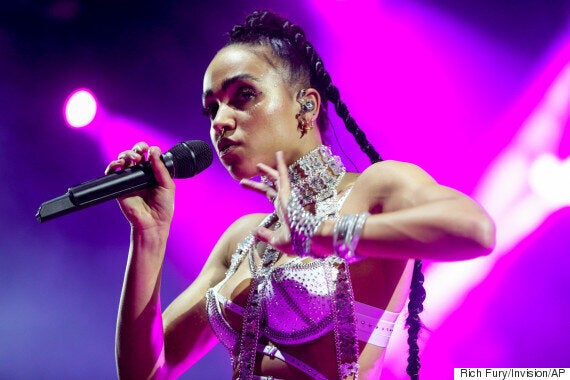 Her 2015 Coachella set was hailed by critics
Twigs' profile rose simultaneously in the UK and America and the days where an artist had to launch themselves in their home country, before taking their wares abroad and attempting to "crack America" are long gone. For every interview she completed with a cult British publication, (Dazed, The Guardian, Noisey), a feature followed in a US equivalent (Rookie, Slate, Pitchfork).
In the run up to her album's September 2014 release, twigs was performing concerts on both sides of the Atlantic, and her rendition of 'Two Weeks' on Jimmy Fallon's late night talk show prompted global interest. Despite her insistence that TV is a medium she struggles with - "You're standing in a spot where other artists have stood a million times before. It's hard to distinguish yourself" - she commands every set and stage with ease. It wasn't until the album finally hit the iTunes store - the global nature of music promotion and consumption deserves its own full analysis - that she appeared on the UK's 'Later, With Jools Holland'.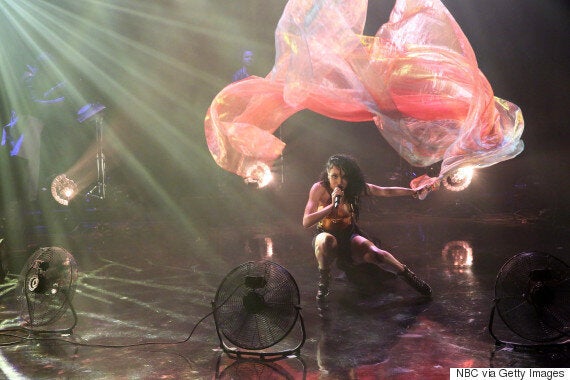 FKA Twigs' Jimmy Fallon performance
Of course, at some point within this whirlwind, twigs started a relationship. With Robert Pattinson. While the artist doesn't enjoy discussing her relationship, and has always kept her private life, well, private, it would be impossible to discuss her global appeal without at least mentioning the man she's now engaged to - given that he starred in one of the most commercially successful film franchises of all time. However, while her friends have revealed twigs and "ol' Patty" are happy, it's through the relationship that she's experienced the darker side of fame.
In September, as she was riding high on rave reviews and encouraging sales, twigs was faced with a tirade of online abuse, from fans of Kristen Stewart, Rob's 'Twilight' co-star and ex-girlfriend. A number of the tweets focused on the fact twigs is mixed race.
"Obviously I know if you're putting yourself out there, saying, 'Hey! Listen to my music!', with pictures of yourself in the magazines, then people are going to judge you. 'I hate her music. I hate her hair. I hate her production. I hate her videos.' Fine: don't care," she said to The Guardian. "That's the great thing about art, it's not for everyone. But when it comes to racism, really? In this day and age? Pick that?"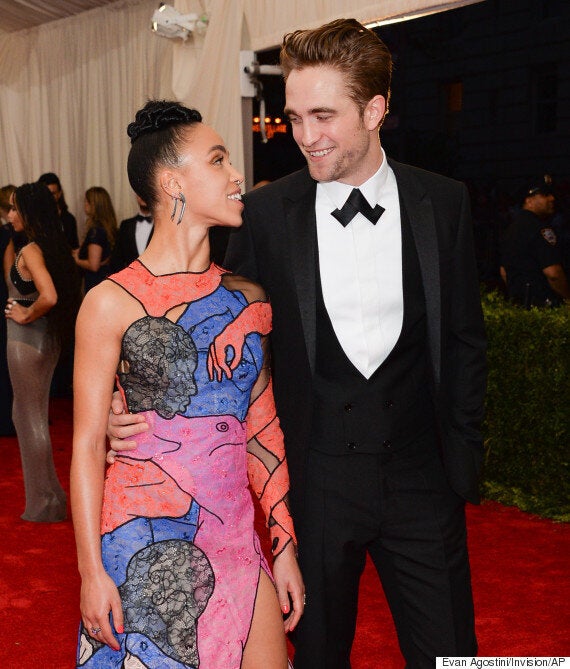 FKA Twigs and Robert Pattinson at the Met Gala
Then there's the tabloid interest in their relationship and engagement, which has brought a level of attention usually reserved for red carpet regulars. Admittedly, without her burgeoning, if unwanted, celebrity status, twigs' Field Day set probably wouldn't have caught the attention of MailOnline, or The Mirror. But the performances themselves - and the woman behind them - deserve so much more than a cursory glance and 400 words on twigs' outfit. As Crack magazine asserted, her performances leave audiences "hopelessly spellbound", and even if you entered the concert to see "Robert Pattinson's fiancee", you'd leave and tell everyone about the extraordinary FKA twigs. Her songs will pester you on the way home, and whispering in your for weeks. In short, anyone focussing on twigs' relationship is missing out.
Twigs is determined not to let herself get swallowed whole by the celebrity world, and you can count on one hand the times she's made a public appearance with her fiance. To overlook her creativity, style and bold production techniques in favour of poring over some pap shots, eager for a glimpse of Rob waiting near a venue, would be nothing short of foolish.
FKA twigs is the export the UK needs and boy, are we lucky to have her. Record sales and social media followers can only last so long (though she has plentiful amounts of these) and as bands formed on talent shows begin to flounder, lose members and suffer creative crises, the bedroom musicians and self-taught producers will be flying the flag, consistently in the background.
We Brits love an eccentric, an outsider, and twigs is exactly that - only she's permeated the mainstream. With talent, confidence, and more than a few wise words for those who want to follow in her footsteps, twigs is paving a path that, hopefully, other Brits can follow. What's next? A summer of festivals, across the country. And after that, most likely, a second album. But one thing's for sure - we'll be waiting eagerly, to find out twigs' next move - as will our friends on the other side of the Atlantic.
Popular in the Community