Fans of groundbreaking 90s drama 'Queer As Folk' will remember Charlie Hunnam as schoolboy Nathan Maloney, but not many will realise that, since the show ended at the start of the millennium, the Geordie lad has beeen quietly becoming one of TV's most familiar faces on the other side of the pond.
Here, as part of our BRITS BLITZ project - charting those British talented performers flying the flag across the world - we look at just how he did it.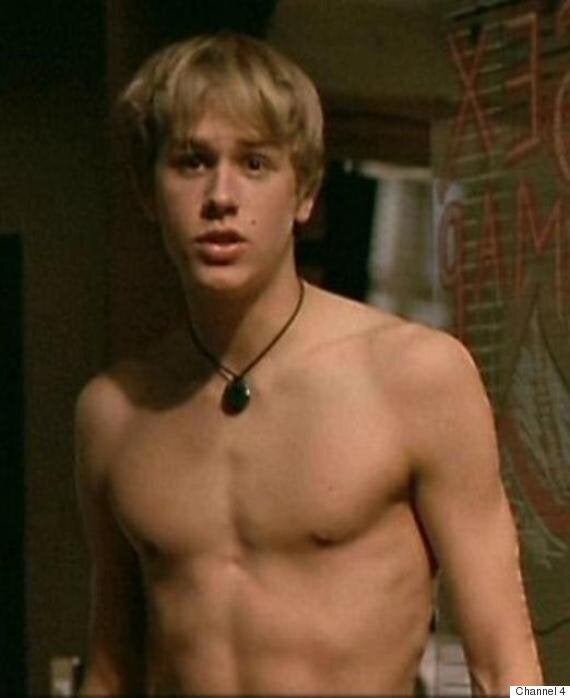 Charlie Hunnam in 'Queer As Folk'
He may be hobnobbing in Hollywood now, but Charles Matthew Hunnam had a very different start to life, born to to a gangster and scrap metal merchant father and business owner mother in Newcastle-upon-Tyne on 10 April 1980.
Being brought up on an estate, Charlie saw the tough side of life and found himself getting into lots of fights at school, eventually getting himself expelled for his bad behaviour. But at the age of 17, he was discovered in a Newcastle shoe shop, when a production manager of kids TV series 'Byker Grove' spotted him drunkenly messing around in a shoe shop with his brother. He was then cast in three episodes of the CBBC series as Jason Chuckle, which proved to be the springboard for his career.
Read more about the Brits flying the flag for music, TV and film in our special #BRITSBLITZ section:
A year later in 1999, Charlie landed his first major TV role when Russell T. Davis (the man who later went on to revive 'Doctor Who') cast him in progressive gay drama 'Queer As Folk', playing 15-year-old schoolboy Nathan Maloney. The series was progressive in the way it depicted gay life, telling the stories of three men on the gay scene in late 1990s Manchester.
Shortly after the show ended in 2000, Charlie packed his bags, moved to LA and, for a while at least, he never looked back. After small roles in US dramas 'Young American' and 'Undeclared', he made the jump to the big screen in 2002 thriller 'Abandon' alongside Katie Holmes and Zooey Deschanel. Parts in 'Nicholas Nickleby' and 'Cold Mountain' followed, but in 2005, Charlie returned to his home shores to take the lead role of Pete Dunham in the film 'Green Street'.
After years of working pretty much non-stop, Charlie experienced a quiet period, as he spent his time developing a screenplay around the character of Vlad - the inspiration for Bram Stoker's 'Dracula' - having spent time in Romania while filming 2003's 'Cold Mountain'. In 2008, he sold the screenplay to Brad Pitt's Plan B Studios and Summit Entertainment, but the film is still to materialise.
But Charlie wasn't down on his luck for too long, as 2008 also marked the year he was cast in his first lead role in a US TV show. Crime drama series 'Sons Of Anarchy' saw him take on his grittiest role to date as outlaw motorcyclist and gun runner Jackson 'Jax' Teller, landing the part after the show's creator, Kurt Sutter, was impressed with his performance in 'Green Street'. He admitted to feeling a personal connection to the role because of his tough upbringing. "I definitely grew up in a similar world. My dad's a real hard guy. He made money outside of the law. So I was very aware of the outlaw mentality," he told USA Today earlier this year.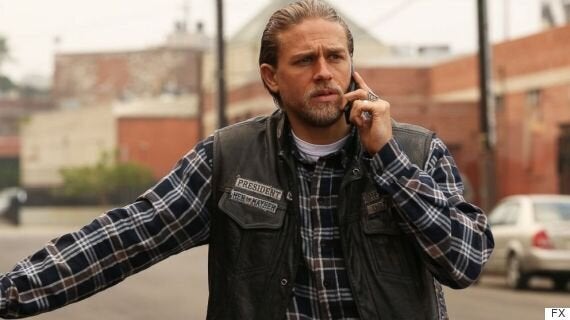 Charlie as Jax in 'Sons Of Anarchy'
Throughout the show's seven seasons, he won plaudits from critics and found himself nominated for various awards including two Critics' Choice Television Awards and a People's Choice Award. His film career continued to flourish too, with 2011's 'The Ledge' 2012's '3,2,1… Frankie Go Boom' and 'Deadfall', while he also turned down the chance to play Aldous Snow in 'Forgetting Sarah Marshall', before the part was awarded to Russell Brand.
But in September 2013, came the biggest news of Charlie's career so far, when it was announced that he had been cast as the Christian Grey in the highly-anticipated film adaptation of hit novel 'Fifty Shades Of Grey'. However, just a month later, he dropped out of the project citing "scheduling clashes" with his role on 'Sons Of Anarchy'. Jamie Dornan was subsequently cast as the S&M addict, turning him into a household name across the world.
Charlie later admitted that the real reason he quit 'Fifty Shades' was that he was suffering from a nervous breakdown due to the demands that were being placed on him. Describing it as a "really, really difficult time in his life", the actor revealed how he would have been shooting 'Sons Of Anarchy', 'Fifty Shades' and Guillermo Del Toro's 2015 film 'Crimson Peak' back-to-back without a break.
He told Moviefone last year: "I just had like... Frankly, something of a nervous breakdown. I just said, 'I can't... I can't.' I really didn't want to fail on such a grand scale and I just couldn't transition from Jax Teller (his 'Sons of Anarchy' character) to Christian Grey in 48 hours.
"I bit off more than I could chew and it was painful. I loved the character and I wanted to do it. It was just a s**t situation. I was really, really, sorry to do it. It was one of those damned if you do, damned if you don't situations," he said.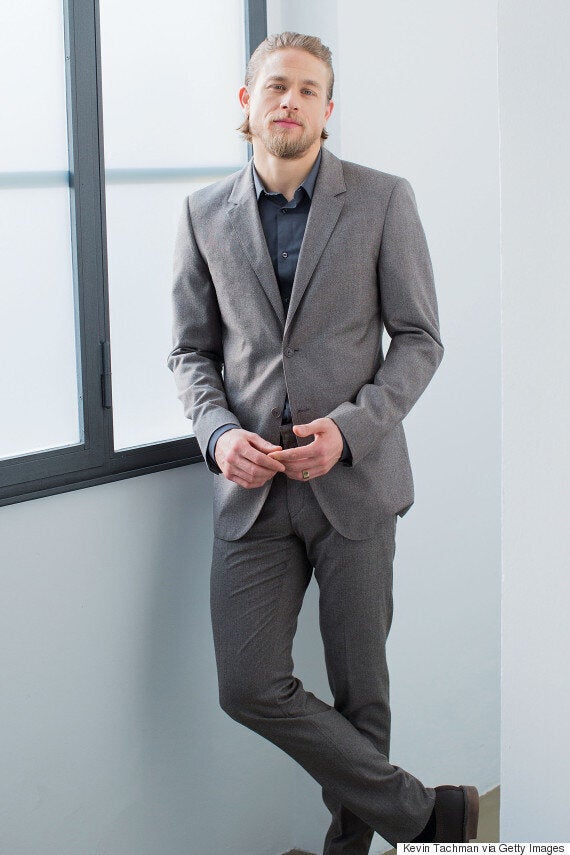 Charlie dropped out of 'Fifty Shades'
After filming on the seventh and final series of 'Sons Of Anarchy' wrapped, Charlie took some time out as he got used to the "gypsy way of life". Speaking of the show's demise to HuffPost UK earlier this year, he said: "This has been one of the greatest experiences of my life. So it's kind of sad to say goodbye and say goodbye to the character. I loved playing this guy for these seasons. So you know, I'm sure there's going to be a moment of kind of depression and having to re-explore identity and stuff coming out of this. But I think it's time. It feels like its time."
But Charlie won't be away from our screens for too long, as he's already filmed 'Crimson Peak', alongside Mia Wasikowska,Tom Hiddleston and Jessica Chastain, with the movie set to be released in October.
And despite turning down arguably the biggest role in modern cinema history, Charlie is still very much in demand, as he's now shooting Guy Ritchie's adaptation of the classic Camelot fable, having been the director's first choice to star in 'Knights of the Roundtable: King Arthur'.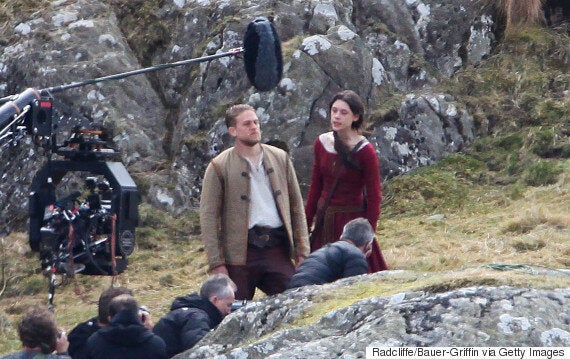 Charlie filming 'Knights of the Roundtable: King Arthur'
While he's enjoying success on the big screen, Charlie hasn't turned his back on TV for good, as he admitted he's still keen to star in another long-running show like 'Sons Of Anarchy'. He told us in March: "I actually really prefer the pace and flow of working in TV. The challenges that are present in filmmaking I find much more difficult to navigate. But I don't want to jump into another show right away because I need some freedom."
Find out even more about Charlie with our 9 Facts in 90 Seconds below...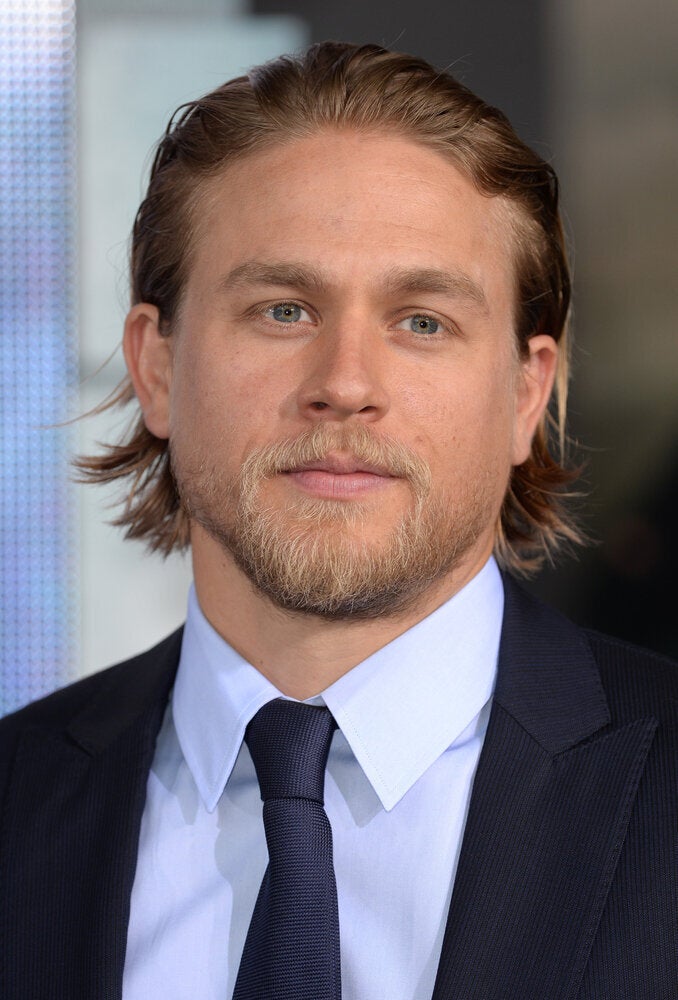 Charlie Hunnam: 9 Facts In 90 Seconds