Amanda Holden and Alesha Dixon's dresses during this year's 'Britain's Got Talent' live shows were not in breach of broadcasting rules, Ofcom have ruled.
SEE MORE:
The TV watchdog received over 80 complaints during this year's 'BGT' about the two female judges' racy wardrobe choices, which deemed by some as not being suitable for a pre-watershed audience.
However, they have now announced that they won't be looking further into these complaints, insisting that the dresses in question were not "sexualised" enough to warrant a full investigation.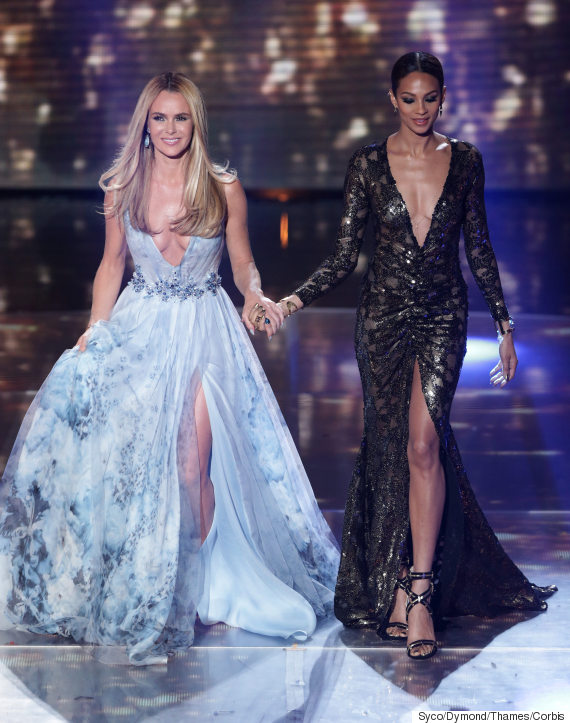 Amanda Holden and Alesha Dixon at the 'BGT' final
A spokesperson for Ofcom confirmed on Monday: "We assessed a number of complaints about the clothing worn by two female judges being unsuitable before the watershed, but won't be taking the matter forward for investigation.
"In our view, the dresses appropriately covered the judges and they were not portrayed in a sexualised way
Amanda recently laughed off the controversy in a typically candid fashion, telling The Sun she "didn't give a s***" about the furore surrounding her fashion choices, with Ant and Dec later joking about the complaints during the show's live final.
While Amanda and Alesha are in the clear, Ofcom announced earlier this month that they would be launching an investigation about the show's winner, Jules and Matisse, after it emerged that the dog trainer had used a stunt dog for one of her performance's more difficult tricks.
Despite the ensuing backlash that faced the 'BGT' winner, Alesha recently leapt to Jules's defence, in an interview with HuffPost UK, telling us: "I do think she's a worthy winner, and I wouldn't want that to be taken away from her... It was probably a little bit of a mistake on the part of us, and we should have made it a little bit more clear."
LIKE US ON FACEBOOK | FOLLOW US ON TWITTER