• 28.1C (83F) recorded at London's Kew Gardens at 1pm
• Wednesday could see mercury nudge 35C (95F)
• Trains are being cancelled amid fears tracks could buckle
The sweaty embrace of Britain's mini-heatwave has delivered the hottest day of the year – so far.
Temperatures over 28C (83F) were notched up in Surrey on Tuesday, and Kew Gardens recorded 28.1C (83F) at 1pm, beating the previous high of 27.8C (82F) in Gravesend, Kent, last Friday.
And there's more to come – for the mercury could nudge 35C (95F) on Wednesday. The highest July temperature ever recorded was measured at Wisley in 2006, where the mercury peaked at 36.5C (98F).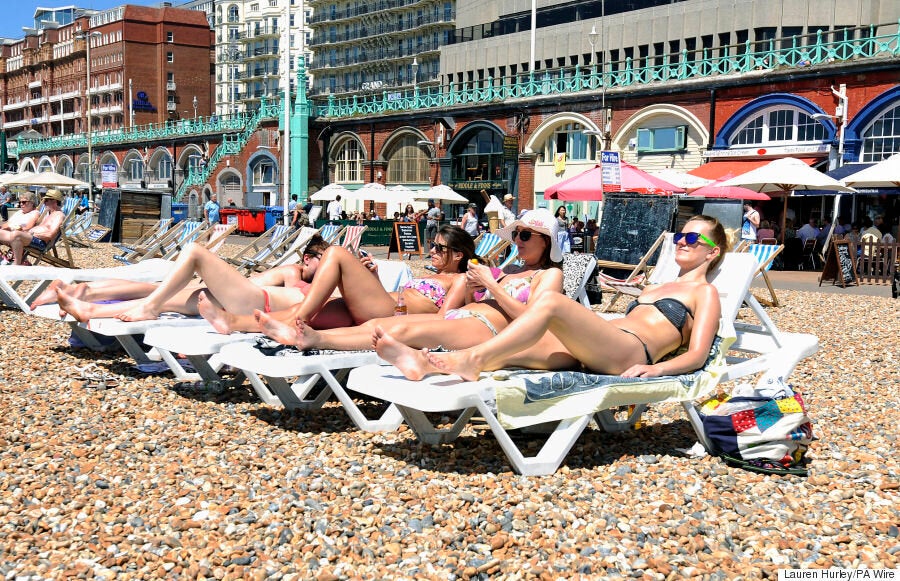 Sunbathers enjoy the warm weather on the beach in Brighton, East Sussex
The BBC puts Britain's hottest day ever at 10 August 2003 which saw highs of 38.1C (100.6F) recorded in Gravesend, Kent.
It's not all sunglasses and deckchairs however, for the intense heat is already spelling trouble for commuters.
First Great Western cancelled several fast trains from London Paddington after Network Rail imposed speed restrictions to protect track points.
The rail operator instructed train companies to slow down at vulnerable locations where tracks could buckle.
Some passengers will have to take slower services from the station to Henley-on-Thames and Bourne End, changing at Twyford or Maidenhead.
A spokesman for the company said: "First Great Western is advising passengers that due to the anticipated hot weather Network Rail is to impose a speed restriction in the London Thames Valley area to protect track points on Tuesday June 30.
"As a result there will be no fast trains between between London Paddington and Bourne End or Henley-on-Thames from 12:00 until 20:00."
But he emphasised that only six services out of 1,520 had been affected so far.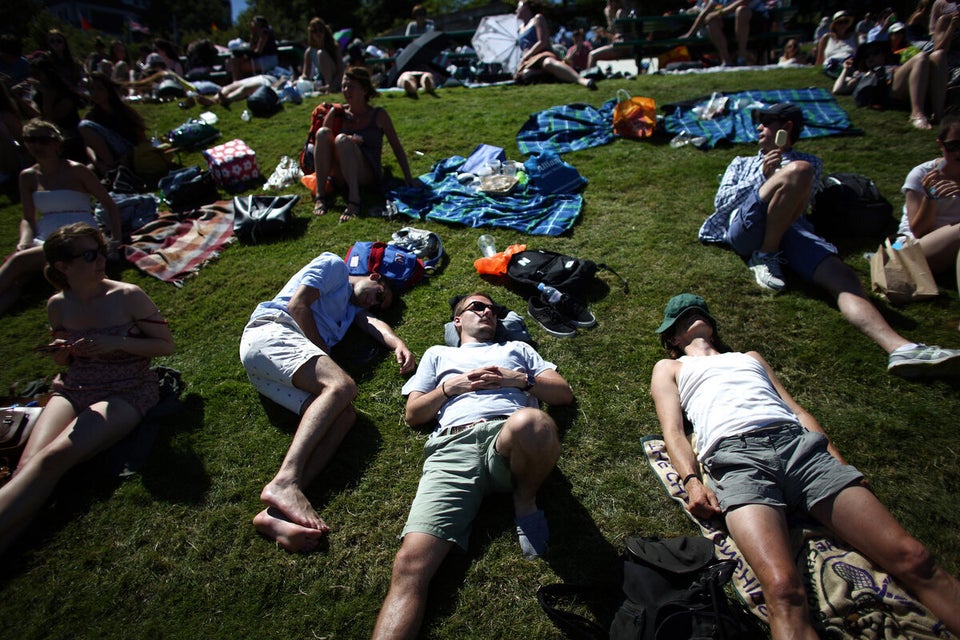 Heatwave Across Europe
Commuters have been advised to check their journeys before travelling and carry water and sun screen as the mercury is predicted to hit 30C today and 35C (95F) on Wednesday, making Britain hotter than Brazil's Rio de Janeiro and Bucharest in Romania.
The heatwave is being caused by a warm front and tropical continental air mass from Europe pushing across the country, bringing high temperatures, humidity and possibly Saharan sand.
Paul Knightley, forecast manager at Meteogroup, warned that dust - whipped up from the Sahara - is being carried by the wind towards Britain where it could coat cars.
A health warning has been issued amid concerns that lives could be at risk.
Vulnerable groups including the elderly, young children and people with breathing difficulties have been urged to stay cool as the hot weather pushes across the UK from Europe.
Dr Angie Bone at Public Health England said there could be more deaths than usual.
She said it seemed "likely" that the Met Office would issue a level 3 heatwave alert - which requires community support for at-risk groups, media alerts about keeping cool and a review of safety at public events. She added: "It is possible that we will see an excess mortality but it is too early to tell.
"We know that high temperatures do have an impact on health, particularly on older people and young children and people with chronic diseases."
However, severe thunderstorms are predicted to strike western and northern parts of Britain by tomorrow afternoon, and temperatures will dip on Thursday - but are likely to rise again before the weekend.