TV bosses in the US have pulled re-runs of 'Dukes Of Hazzard', following concerns over the presence of the Confederate flag in episodes of the series, and on the show's iconic car.
Protesters have been campaigning for the flag to be banned, following the aftermath of the 17 June Charleston shooting.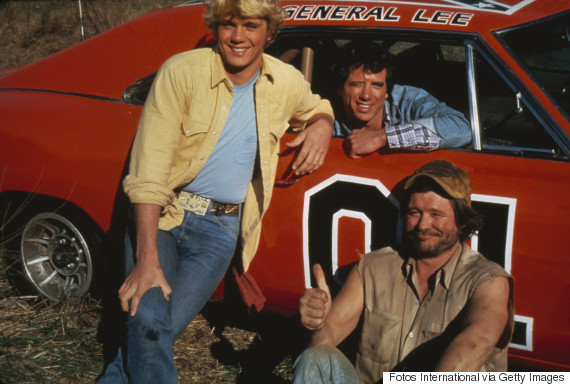 The show ran from 1969 to 1985
The Wrap first reported that the show was being pulled on Wednesday, however, one of its stars has hit back.
John Schneider has shared his disappointment with the move, telling The Hollywood Reporter: "'The Dukes of Hazzard' was and is no more a show seated in racism than 'Breaking Bad' was a show seated in reality."
"I am saddened that one angry and misguided individual can cause one of the most beloved television shows in the history of the medium to suddenly be seen in this light," he is quoted as saying. "Are people who grew up watching the show now suddenly racists?
"Will they have to go through a detox and a 12-step program to kick their Dukes habit? 'Hi… My name is John. I'm a Dukesoholic.'"
Shooter Dylann Roof proudly posed with the flag of the Confederacy, which defended slavery in the 19th century, before killing nine people who were attending bible study in one of the oldest African-American churches in the US.
Since then, debate over its place in the media, and on merchandise has been on-going. A number of US retailers including Amazon and Target have pulled all products bearing the flag.
LIKE US ON FACEBOOK | FOLLOW US ON TWITTER