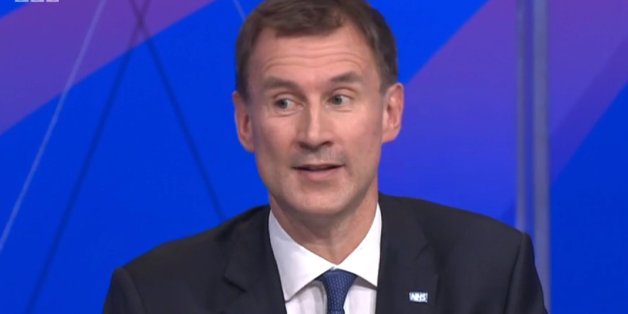 BBC
Patients who miss doctor appointments will be told how much their failure to turn up costs the NHS in the "first step" of a Government crackdown, Health Secretary Jeremy Hunt has said.
The minister told BBC'S Question Time that he does not "in principle" oppose going further and charging people who miss GP appointments, but admitted there are "practical" problems.
The Government this week announced all medicines costing more than £20 will be marked with its cost and labelled "funded by the UK taxpayer", arguing how £300 million a year is spent on wasted medicines.
But while a speech to the Local Government Association alluded to the cost of missed appointments, Mr Hunt made no reference to shaming or a nudge technique to tackle the issue.
But on television tonight he said: "We are very stretched for resources, doctors and nurses work incredibly hard and we're going to have a million more over-70s by the end of this Parliament.
"If we're going to square the circle and have a fantastic NHS, despite all those pressures, we have to take personal responsibility about how we use NHS resources.
"I don't have a problem in principle with charging people for missed appointments, in practical terms it is difficult to do.
"But I have taken a step towards that this week by announcing that when people do miss an appointment they will be told how much that will cost the NHS as a first step."
The principle of charging received short shrift from GP-turned-MP Sarah Wollaston, the Conservative chairman of the health select committee of MPs.
Charging for missed appointments would risk penalising those too unwell to attend eg with severe depression #bbcqt

— Sarah Wollaston MP (@sarahwollaston) July 2, 2015
.@tc1415 just wait until a bereaved relative gets landed with a bill for missing an appointment. Better ways to tackle this #bbcqt

— Sarah Wollaston MP (@sarahwollaston) July 2, 2015
.@PSeventyseven hand on heart, have you ever missed an appointment? Most GPs use.to catch up when running late tbh #bbcqt

— Sarah Wollaston MP (@sarahwollaston) July 2, 2015
There's also the frequent irritation for ppl who have phoned to cancel then get a bossy telling off letter for 'missed' hospital appointment

— Sarah Wollaston MP (@sarahwollaston) July 2, 2015
In his speech this week, Mr Hunt said: "There is no such thing as a free health service: everything we are proud of in the NHS is funded by taxpayers and every penny we waste costs patients more through higher taxes or reduced services.
"Yet estimates suggest that missed GP appointments cost the NHS £162 million each year and missed hospital appointments as much as £750 million a year.
"That is nearly £1 billion that could be used for more treatments or the latest drugs. On top of which we spend £300 million a year on wasted medicines."