Miley Cyrus has been spotted looking seriously loved up with her rumoured new girlfriend Stella Maxwell, after the pair were caught locking lips (and rather a lot more) in Hollywood.
READ MORE:
The 22-year-old singer, who recently came out as bisexual, was spotted having a major PDA with the 24-year-old Victoria's Secret model during a break from filming her new music video.
WATCH MILEY AND STELLA GET UP CLOSE AND VERY PERSONAL IN THE VIDEO ABOVE
Miley met the Belgian model through her assistant and close friend Cheyne Thomas and they've been inseparable ever since.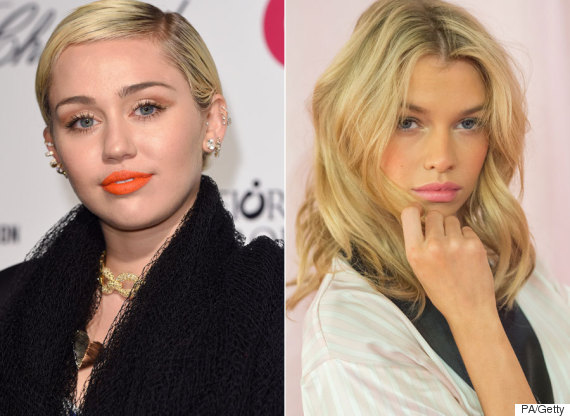 Miley Cyrus and Stella Maxwell
The pair have yet to officially go public but both have shared a number of cosy-looking selfies on their Instagram pages over the past few weeks.
It's Miley's first known relationship with a woman since she came out as bisexual, having previously been engaged to 'Hunger Games' star Liam Hemsworth.
She also dated Arnie's son Patrick Schwarzenegger for five months until they split earlier this year.
Speaking about her sexuality, Miley recently told Paper Magazine: "I am literally open to every single thing that is consenting and doesn't involve an animal and everyone is of age.
"Everything that's legal, I'm down with. Yo, I'm down with any adult - anyone over the age of 18 who is down to love me."
She also described the moment she opened up about her sexuality to her mother Tish when she was 14.
"I remember telling her I admire women in a different way,' she explained.
"And she asked me what that meant. And I said, 'I love them. I love them like I love boys.' And it was so hard for her to understand.
"She didn't want me to be judged and she didn't want me to go to hell. But she believes in me more than she believes in any God. I just asked for her to accept me. And she has."
Miley also opened up about her sexuality in an interview with Time about her Happy Hippie charity, which is dedicated to helping homeless and LGBT youth.
"There are times in my life where I've had boyfriends or girlfriends," she said. "And there are times where I just love being with myself and don't want to give part of myself away to someone else ... I think that's a new freedom for women, especially.'
LIKE US ON FACEBOOK | FOLLOW US ON TWITTER