It's usually Eamonn Holmes' cheeky banter with his wife Ruth Langsford that raises a smile on 'This Morning', but breakfast TV's favourite Irishman got fans talking for a different reason on Friday's show.
The presenter debuted a dashing new look, when he sported a white suit.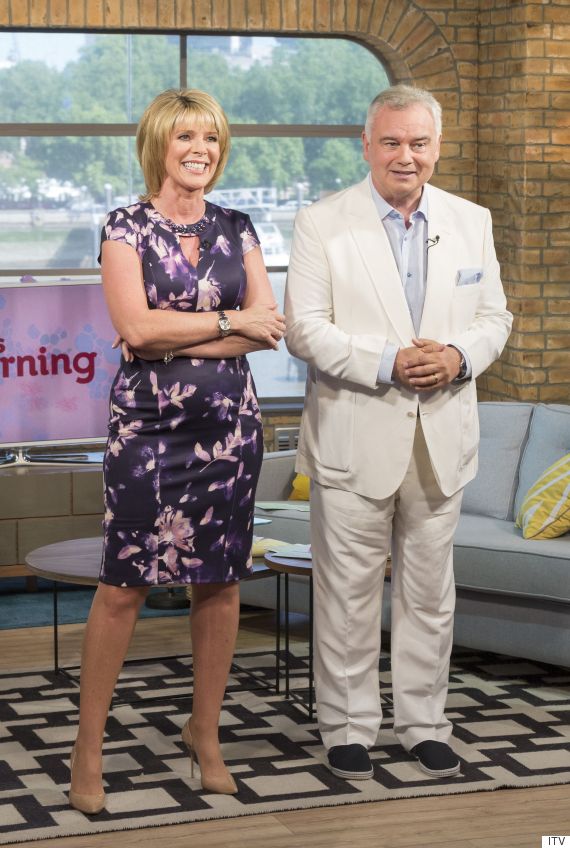 Eamonn Holmes and Ruth Langsford on 'This Morning'
Needless to say, Twitter went mad for it:
Haha @EamonnHolmes is looking a lot like a Bond villain today lol. :-p @itvthismorning #ThisMorning

— Tommy McNulty (@TommyMc1988) July 3, 2015
@itvthismorning @RuthieeL has @EamonnHolmes borrowed his suit from the man from del monte?! pic.twitter.com/fDy4HyWEmt

— Sarah Capps (@nightflower2001) July 3, 2015
I reckon Eamonn Holmes is rocking the white suit @itvthismorning ... who you gonna call? pic.twitter.com/gmuvVMOD39

— Gareth Morgan (@Gareth_D_Morgan) July 3, 2015
@itvthismorning @EamonnHolmes What a suit Eamonn like something off the Fantasy Island. Dont wear it to Belfast you would last seconds LOL

— MD (@MartinD56) July 3, 2015
Blinded by @EamonnHolmes white suit. Almost as white as @Rylan 's teeth.

— Dan Cooper (@Dan_Said_This) July 3, 2015
Eamonn Holmes could do a advert for Daz with that white suit #thismorning

— Stuart Court (@st73u) July 3, 2015
I'm blinded by @EamonnHolmes's amazing suit. And sunnies. And commentary on #bikini item. It's a great EAMONN DAY.

— Poppy Loves (@poppy_loves) July 3, 2015
Eamonn Holmes's Man from Del Monte/Colonel Sanders white suit is my Friday jam pic.twitter.com/Kz4IRGqZM2

— Alex Fletcher (@alexanderfletch) July 3, 2015
@RuthieeL why are you not wearing sunglasses @EamonnHolmes in his bright white suit is almost an advert for washing powder. 😂😂😂 looking good

— Helen Shaw (@Miss_HShaw) July 3, 2015
@EamonnHolmes im loving the white suit Eamonn!! you look very smart and its lovely to see on a hot day like this!! very dapper!! ;)

— Theresa Fryers (@theresafryers) July 3, 2015
His wife even joined in too:
I know I teased him but really I thought my hubby @EamonnHolmes looked lovely in his white linen suit...very continental! @itvthismorning

— Ruth Langsford (@RuthieeL) July 3, 2015
Before the show, Eamonn hinted that he thought his fashion choices may cause a stir:
Right I've bought it and I have to find a day to wear it .....Today is that Day ! Deep breath #ITVThisMorning 10.30 pic.twitter.com/tM1qBqfap5

— Eamonn Holmes (@EamonnHolmes) July 3, 2015
Never change please, Eamonn.
LIKE US ON FACEBOOK | FOLLOW US ON TWITTER