Ariana Grande is facing a backlash, after a video has surfaced online, appearing to show her licking doughnuts on the counter of a shop.
SEE MORE:
TMZ have obtained footage of Ariana and dancer Ricky Alvarez, putting in an appearance at a doughnut shop in California over the weekend.
During their brief stay in the shop, the duo did two things that have got fans talking. First, Ariana is seen leaning in and subtlety attempting to licking the doughnuts on offer, then leaving them where they are. To be bought by other customers. Ew.
As if her tongue wasn't getting enough action without all of that confectionary-licking, the video also shows Ariana and Ricky sharing a snog - which appears to prove that they are definitely dating.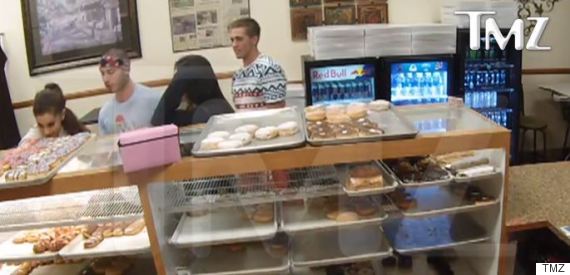 Ariana and the offending doughnut
Nothing sets the mood quite like a side-street doughnut shop, that's all we have to say.
Their kiss is interrupted, however, when a staff member brings out a new tray, to which Ariana responds: "What the f*** is that?"
Suffice to say, fans of the child-friendly singer are alarmed by the footage, to say the least - so much so that 'Ariana' and 'Ricky' quickly became two of the top trending topics on Twitter.
Here's what some of the distressed Arianators (for that is what her fans refer to themselves as), have had to say online:
i defended ariana through all the diva rumors and now this :/ i feel so led on

— ruby (@foolforgrande) July 7, 2015
Ariana is becoming super messy and problematic. She better fix this.

— dani (@defendbutera) July 7, 2015
What Ariana did was so disrespectful and actually disgusting stop defending her just because you stan her @arianagrande

— filipe (@arianailysm____) July 7, 2015
I don't hate Ariana after that video. I don't care if she sniffed and licked the donuts. I just hate that she was rude to the worker...

— 1 day it will say he (@AlexCruz0) July 7, 2015
I love Ariana but she should know that it's not funny.

— david (@finestagb) July 7, 2015
i'm not unstanning Ariana but i'm just very confused as to why she did that. Her image shows her being respectful to everyone and this..well

— Cameron | bio if unf (@GrandesDevotion) July 7, 2015
obviously I am not unstanning ariana or stopping loving her, I am just so disappointed

— tom (@drunkenbutera) July 7, 2015
I'm not unstanning for it but some people are acting like that video is no big deal, but it is. Ariana was rude, I hope she owns up to it. 👀

— sara ❁ (@brightenbutera) July 7, 2015
if ariana doesn't take the blame for just ONCE in her life, I'm unstanning

— sarah (@VanilaMoonlight) July 7, 2015
Seriously, though. We'll tolerate a lot of diva behaviour from our fave popstars, but it just breaks our heart to see a good doughnut go to waste.
Ariana is currently enjoying a break from her 'Honeymoon' tour, which saw her play several UK venues last month, to promote her latest album, 'My Everything'.
LIKE US ON FACEBOOK | FOLLOW US ON TWITTER