You know the face. The face that tells you your baby is going to the toilet. The face that looks full of concentration and consequently leads to a very smelly nappy.
Pampers has used this as inspiration for their latest advert, celebrating with the hashtag #PampersPooFace and empowering parents "not to fear the mess" that comes afterwards.
Saatchi & Saatchi London filmed babies for the latest Pampers advert in slow motion to show the changing faces of going to the toilet.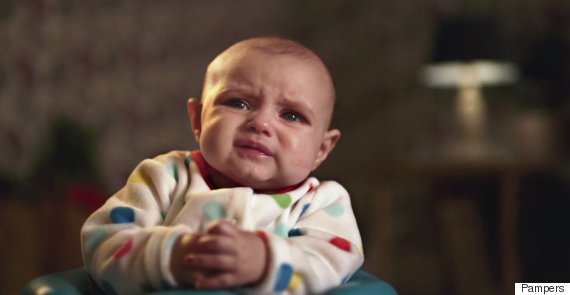 The award-winning video documents the faces babies make during the whole process: from the first signal that they need the loo, all the way through to when the deed is done.
How lovely.
Paolo Haeusermann, Brand Manager for Pampers, Northern Europe said: "We are really excited to launch our fun and light hearted video which celebrates and dramatises that adorable baby pooface which is an instantly recognisable and comical moment for all parents!
"We know that being a parent involves a lot of messy moments, but whatever that red face might lead too, with Pampers Wipes a clean baby is just a wipe away!"
The advert won a bronze Lion in Film at Cannes, and a silver and a bronze in Film Craft, according to AdWeek.
SEE ALSO:

Dog Ignores Baby To Watch Women's World Cup Football Final
Many people have used Twitter as a platform to say just how "realistic" the #PampersPooFaces are:
#PampersPooFace#ad is so real. It's so true. It's cute. It's brilliant.

Don't fear the mess.

😂😂😂😂😂

— Hina Safdar (@hinasafi) July 7, 2015
The face of satisfaction :D funny commercial by @pampers ! #pamperspooface@Pampershttps://t.co/EylLMMiko6

— Giancarlo Derungs (@jaenkiw) July 5, 2015
Hysterical ad campaign by @saatchilondon for @Pampers | http://t.co/89bFWmrdJ7 | #PampersPooface#marketing#CannesLions#advertising 👋👋

— Eliott Wolbrom (@ewolbrom) July 3, 2015
I gotta admit, this #PampersPooface commercial got me to LOL pretty bad. http://t.co/SU9b8Tk3iO

— Mike Proulx (@McProulx) July 2, 2015
Can't believe I've never seen this: http://t.co/B8XL5hrXP6 Too funny! #Pamperspooface

— Julie Adams (@Miz_Adams) July 2, 2015
Not sure what's funnier, the slow-mo or the hashtag #PampersPooFace | Adweek http://t.co/PVaUGup8jr via @Adweek

— ejacobs (@hello_ejacobs) July 7, 2015
And some even contributed their own "poo faces"...
Our little Abram is the cutest baby ever, and his poopy face is seriously the best!! #pamperspoofacepic.twitter.com/bTOuLIaRdf

— Alli W. Kelley (@awklongbourn) July 2, 2015
We could describe the poo faces of these babies in the advert, but we're just going to show you a few instead.