Jane and Lucy Batham haven't got time for sibling rivalry, they're far too busy baking.
The sisters, from York, have been selling brownies to the masses since launching their business Tarte & Berry in September and they don't plan to slow down any time soon.
"The thing about working together as sisters is that you can disagree on things and it isn't the end of the world - you don't have to have a huge argument over every little thing," Lucy tells HuffPost UK Lifestyle.
"We may bicker, but we make up within 10 or 15 minutes."
Having trained at Gordon Ramsay's Tante Marie Culinary Academy, 31-year-old Jane is the culinary mastermind behind the business.
"I was working in sales and marketing in 2011 but I'd always loved food. When I saw the course advertised I left my job and enrolled," she explains.
"It took you through everything, from how to chop an onion and fillet a fish to really complicated dishes. I really fell in love with pastry and the baking side of it and that's where the passion came from."
Jane now specialises in creating new recipes for brownies and tray bakes that the pair sell at food shows.
They also supply to cafes and delis in York and sell bakes via their online shop that are designed to be sent as gifts, which is where Lucy comes in.
The 25-year-old has always worked in marketing and PR and oversees the branding of Tarte & Berry, as well as the website and their thriving social media channels (their Instagram account is the epitome of #FoodPorn).
Both women were becoming dissatisfied working for other people, so pairing up to combine their skills seemed the most logical thing to do.
"We get on so well and we have the same passions - Jane loves creating food and I love eating it," Lucy jokes.
"It made sense to try and do it alone and so far it's been going quite well."
To say the business has been "going quite well" is a bit of an understatement.
In less than a year, the entrepreneurial pair have scooped up numerous awards, including the BBC Good Food Show Bursary Award for their salted caramel brownies, the Small Business Award from Dragons' Den's Theo Paphitis and Jacqueline Gold's Women in Business award.
"It's been very busy and a bit of a whirlwind," Jane says. "Usually we'll start baking at around 7.30am - we'll alter what we produce depending on what orders we've got in that week.
"Then we'll break at lunchtime to go through emails, possibly do an interview or make some phone calls.
"In the afternoon it'll be back to baking right through to the evening. If we've got a food show, we'll bake until really late at night."
The rise in popularity of baking has certainly helped their business.
Icing fairy cakes may have been something we associated with our nan once upon a time, but more than six million photos have now been tagged #baking on Instagram, while images of cake-pops and flapjacks continue to take over Pinterest.
Jane believes we've got television to thank for baking's makeover in particular the Great British Bake Off.
"I also think people just like the idea of cooking and baking for their family," she adds, "and putting something that they've created on the table - it's a nice change and something that feels special."
Most sisters would want to pull each other's hair out after spending so much time together - but not Lucy and Jane.
The pair have always been close, but their bond grew even stronger after they lost their mother almost 10 years ago. She died when Lucy was just 16 and Jane 21.
"She would have loved the idea of us working together, and the concept of Tarte & Berry," Lucy says.
"She really was a terrible cook, so that's where Jane's passion came from I think. Jane took over the cooking and baking for the household and it just grew from there."
The pair have also got an older sister, Jenny, who works as a lawyer in London. When they're not visiting her, they like to go running in their spare time.
"We both did the Leeds half marathon last year, so we like to keep up with that. But other than that we just meet up with friends as much as possible - we love to try food at different restaurants and go to bars in Leeds and York," Lucy says.
Jane adds: "But it really depends on what free time with have. During the summer, nearly every weekend is taken up with a food show. We don't really get the same social time as friends who have the weekends off, so we'll have to try and grab a coffee on Tuesday lunchtime and things like that."
The five-year age gap means the sisters have different groups of friends and different social lives, meaning time spent together doesn't get "too much".
But does Jane ever take on the role of the bossy older sibling while they're at work?
"Yes she does! She likes to think she doesn't but she does," Lucy laughs. "I think that's just natural though because she's older and she looks after me a bit."
Going forward, the sisters plan to expand their business by targeting high-end retailers such as Fenwicks, Selfridges and Harvey Nichols.
They're already building up a loyal fan base, including TV presenter Phillip Schofield, who tweeted them to say he enjoyed their brownies.
So, what advice would they give to any women wanting to start their own business?
"It's really hard work and really tiring when you set up your own business, but you just have to keep going and keep positive about it," Jane says.
"There will be people that say 'it's not going to work, you have to give up', but you've just got to go with your gut feeling and stick to what you're passionate about."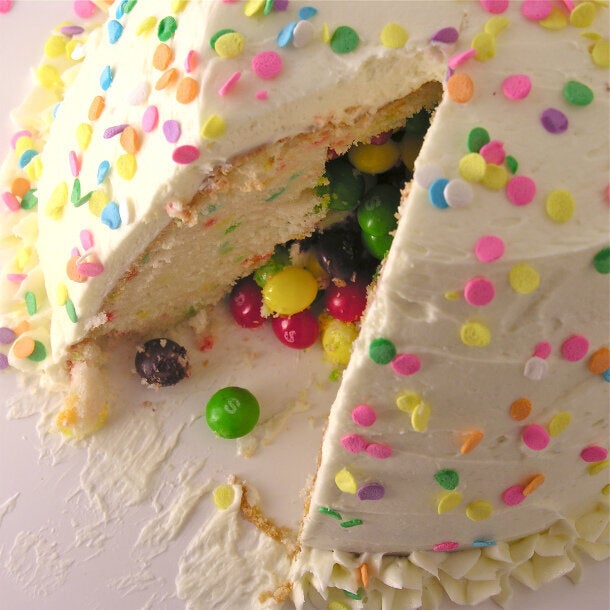 17 Easy DIY Kids' Birthday Cakes