"I spent a lot of my pregnancy hiding it," the singer told Tess Daly in the brand-new AOL Original series, Being Mum.
"Those little moments where she was kicking, something so special was happening. I was doing the show at the time and I thought, 'Oh God, how are we going to handle this during Britain's Got Talent?'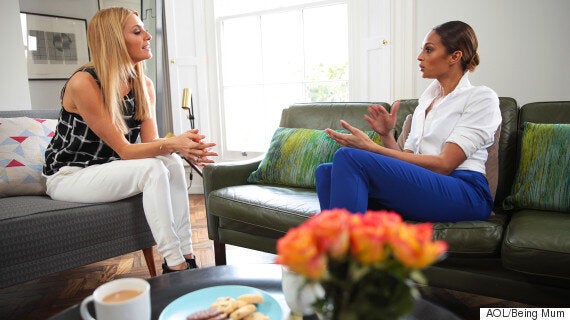 "I just didn't want to make a big deal about it. I would sit there and the buzzers would go off and she'd start kicking.
"It would just be so surreal."
Dixon, who gave birth to her daughter Azura 17 months ago in October 2013, said it became a bit of a game wondering how long she could keep her pregnancy quiet.
She managed to go for six months without anyone knowing.
As for motherhood, Dixon says it's changed everything for the better, despite the vulnerability you feel as a new mum.
She loves running after her active daughter and admits her heart melts every time her 17-month-old daughter says "mummy."
Dixon also told Daly that despite still having a few months to go before Azura - whose name means "blue sky" - turns two, she thinks her daughter has already reached the "terrible twos".
"She can have a tantrum, she's very determined already and she knows what she wants," Dixon explained.
But despite that, Dixon said being a mum brings her joy every day.
Watch the video above to hear why Dixon has a new-found respect for her body and and how she fits "Alesha" time in among the madness.
The Being Mum series, hosted by Rochelle Humes and Tess Daly, is a beautiful and humbling series that defines what it means to be a mother today.
In each episode Rochelle or Tess will meet a well-known personality, or a mother with a remarkable story, to discuss the ups, the downs, the ins and outs of what being a mother is really like.