No one auditioning for 'Britain's Got Talent' likes to hear those buzzers going off, but a pregnant Alesha Dixon didn't mind too much.
The mum-of-mum has revealed that when she was pregnant with her first daughter, Azura, during the last series of 'BGT', the sound of the buzzers would cause her unborn baby to kick.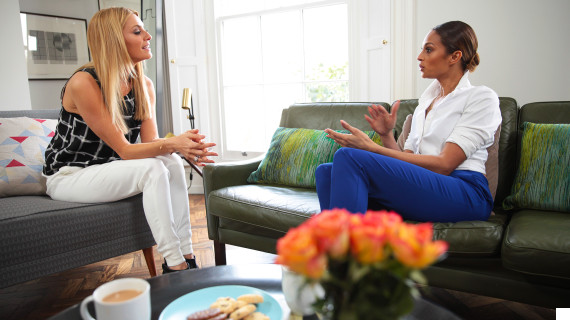 Alesha Dixon chats to Tess Daly in the 'Being Mum' video series
During an interview with Tess Daly for AOL's brand new video series 'Being Mum', Alesha also revealed she managed to keep her pregnancy secret from her fellow judges Simon Cowell, David Walliams and Amanda Holden for six months.
"I was doing the show at the time and I thought oh god, how are we going to handle this during Britain's Got Talent? I just didn't want to make a big deal about it," she explained.
"I would sit there and the buzzers would go off and she'd start kicking. It would just be so surreal.
"And then it became a bit of a fun game, like how long could we actually keep this quiet? And I managed to get to six months without anyone knowing."
The 36-year-old says she loved being pregnant - particularly the effect it had on one part of her body.
"I loved being pregnant, I couldn't take enough photographs and I just wanted to show off my bump all the time. And I've never really been a woman to have boobs and I suddenly had these big boobs and I was like 'ohhh hello! Where did you come from?'.
Watch the full interview in the video above.
LIKE US ON FACEBOOK | FOLLOW US ON TWITTER