Novak Djokovic, the newly-crowned Wimbledon champion, encouraged other players to get married, have children and enjoy family life after his victory coincided with his first wedding anniversary.
The 28-year-old Serb beat Roger Federer in front of a star-studded crowd on Centre Court to take his third Wimbledon title - matching his coach Boris Becker's impressive record.
He screamed in delight and pumped his arms after winning on his first championship point, before celebrating by eating some of the hallowed Centre Court turf.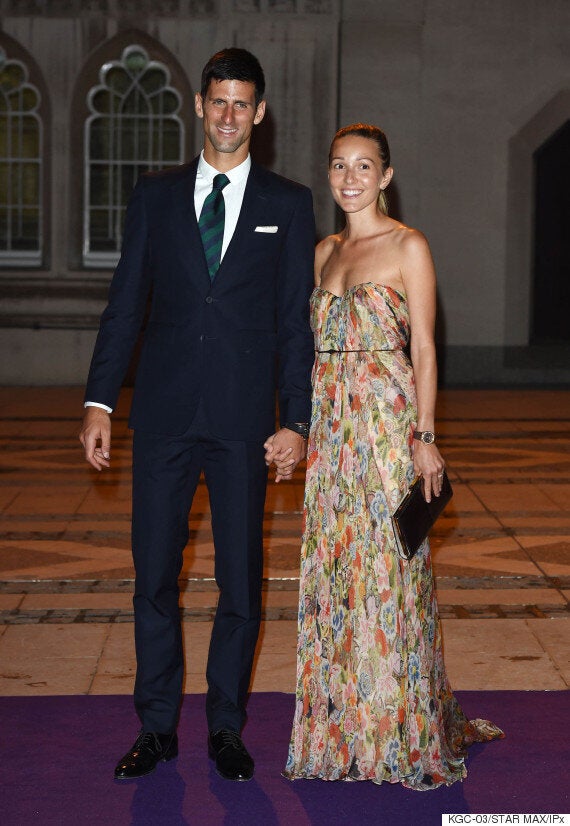 Hollywood stars Benedict Cumberbatch, Bradley Cooper and Hugh Grant were in the Royal Box to watch the highly-anticipated men's final.
But there was embarrassment for Formula One driver Lewis Hamilton who was not allowed to take his Royal Box seat because of the All England Club's strict dress code.
The 30-year-old racing star did not appear to have a tie or jacket on, which men must wear if they are invited to the exclusive box.
A spokesman for Hamilton said: "Due to an unfortunate misunderstanding regarding dress code at Wimbledon, Lewis is very disappointed to have missed the men's final."
After his four-set victory, Djokovic - who married wife Jelena last year - said: "One year ago I won the trophy, and on this day, we got married in the church, started a new life together.
"It's really an amazing chapter of my life that I'm trying to enjoy as much as I can.
"Ever since I got married and became a father, I haven't lost many matches, I won many tournaments. I suggest that to every player, Get married, have kids, let's enjoy this."
Djokovic, who was defending his Wimbledon title after beating Federer in the final last year, won 7-6, 6-7, 6-4 and 6-3 in a match that lasted just short of three hours.
He earns a cool £1.88 million for his victory, while Federer takes home £940,000 as runner-up.
Crowd favourite Federer, 33, saw his hopes of a record eighth Wimbledon title dashed by number one seed Djokovic.
The Swiss star, who was also seeking to become the oldest man to win the men's title, hailed the "beautiful" support he received at Wimbledon, which he described as "the holy grail".
He said: "It's such a huge part of the game, the crowds, wherever you go. I have so much crowd support around the world but particularly here at Wimbledon, which is the holy grail. It's beautiful.
"It means as much to me as winning because I've been around for a long, long time.".
Sherlock star Cumberbatch, 38, was joined in the Royal Box by his father Timothy, while 54-year-old Grant sat with TV executive Anna Eberstein, the mother of one of his three children.
Oscar nominee Cooper, 40, was in the exclusive area after previously sitting with Federer's camp during the tournament.
Former Wimbledon winners Bjorn Borg, Chrissie Evert and Rod Laver were also Royal Box guests.
House of Commons speaker John Bercow did not try to hide his support, as he arrived at the All England Club sporting a Roger Federer baseball cap.
Actresses Kate Winslet, Helena Bonham Carter and Kristin Scott Thomas were spotted watching the final on Centre Court. Veteran actor Sir John Hurt, who recently said he had been diagnosed with pancreatic cancer, was also among the crowd.
Former Manchester United boss Sir Alex Ferguson, Italian football World Cup winner Alessandro Del Piero, actor Clive Owen and Vogue fashion magazine editor Anna Wintour were also watching on Centre Court.
The Duchess of Cambridge's sister Pippa Middleton and supermodel Naomi Campbell were also spotted at the All England Club.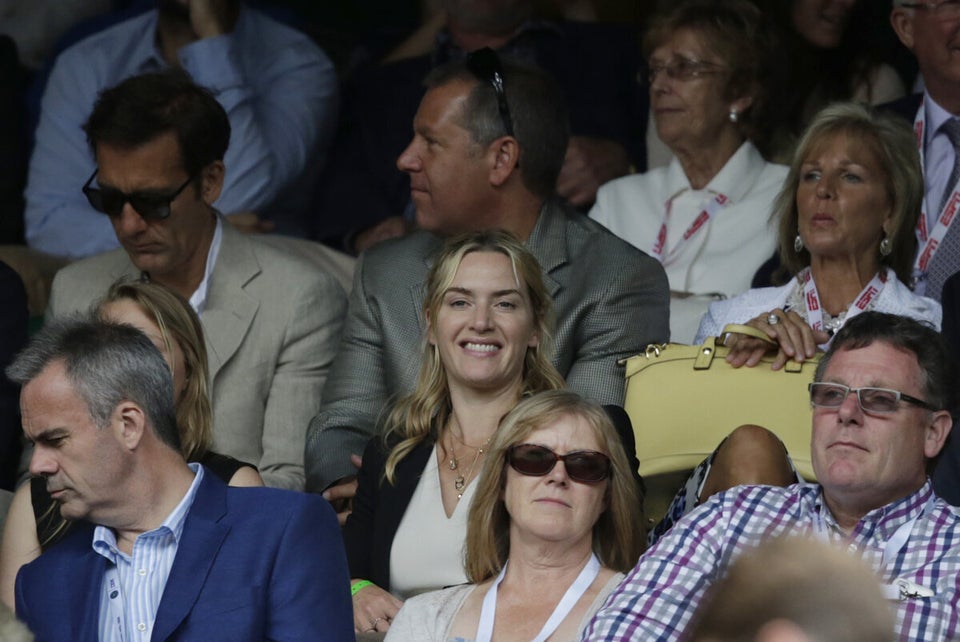 Celebrities at Wimbledon 2015