'Coronation Street' fans said an emotional goodbye to one of the soap's most iconic characters on Monday night, with Deirdre Barlow's funeral provoking a mass reaction on Twitter.
SEE MORE:
The funeral was heart-wrenching for fans for a number of reasons, as her husband, Ken Barlow, delivered a touching tribute to his beloved wife, but also flew off the handle at his step-daughter, Tracy, right in the middle of the service.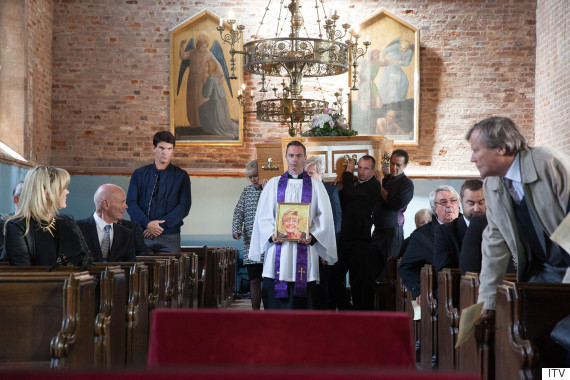 Emotional scenes in Monday night's 'Corrie'
In particular, fans singled out Bill Roache's acting, both during his speech and afterwards, as he paid a private goodbye at Deirdre's graveside, as the most tear-jerking aspects of the double episode.
Back home, so watching the 2nd half of @itvcorrie - stunning performance from Bill Roache, hope he gets all awards at the Soap Awards

— Julie Ann Mulvey (@JulieAnn1972) July 13, 2015
Ken Barlow just smashed that speech #Coronationstreet

— Sean (@seanglade) July 13, 2015
Ken Barlow's eulogy to Deirdre was brilliant tonight. Very little acting from Bill Roache, clearly all coming from the heart. #corrie

— David Meikle (@DavidJMeikle) July 13, 2015
Bill Roache is fantastic tonight such an excellent and heartbreaking performance #Corrie

— @Aoifs2707 (@Aoifs2707) July 13, 2015
Much to love about tonight's @itvcorrie Deirdre funeral eps including Bill Roache's truly emotional eulogy and mini-Blanche @ElleJMulvaney

— Ian Wylie (@ianwylie) July 13, 2015
Just finished watching Deirdre's funeral. William Roache was incredible. Sad to say goodbye to such an iconic pairing pic.twitter.com/7Ysc972jVO

— Martyn Hett (@MartynHett) July 13, 2015
Other fans simply shared their thoughts on the loss of Deirdre, admitting the episode made them realise how much they were going to miss the legendary soap character.
Such an emotional ride we will miss you Deirdre Anna kirkbride :( #Corrie

— tv reality chloe2win (@matt_reality93) July 13, 2015
Very emotional #Corrie tonight, we will miss you Deirdre x

— Beverley Gerrard (@redbev1964) July 13, 2015
#Coronationstreet is so sad today. I feeling really choked! Bye bye Deirdre! 😥😥

— Shaun Evans Online (@ShaunEvansInfo) July 13, 2015
@itvcorrie aaww bless her. Will miss her and her stuffed marrow! R.I.P Deirdre x

— Karen T Jones :-) (@Curlyktj) July 13, 2015
Here we go ... so sad. Deirdre's handmade Ken mug @itvcorrie

— Katie Fitzpatrick (@ShowbizKatieMEN) July 13, 2015
Just seen #Corrie so sad but some lovely references to Anne Kirkbride's iconic character #Deirdre When Ken broke down at the end tears came

— Gavin Matthews (@GavinMatthews2) July 8, 2015
Beverley Callard - who plays Deirdre's best friend in the soap, and was a close friend of the late Anne Kirkbride - also posted an emotional message on her own Twitter page, thanking 'Corrie' fans for their support.
You, as an audience did Annie and Deirdre proud! She was truly loved! Thank you so much!!! X

— Beverley Callard (@Beverleycallard) July 13, 2015
In the run-up to the episode, Bill Roache confessed that he didn't have to reach far to get inspiration for the acting side of things, claiming he was going through a similar sort of bereavement to his soap character.
He previously told 'Good Morning Britain': "It's very, very strange because we're actually filming the funeral of Deirdre and I had a scene as Ken where I'm given Deirdre's glasses, but of course Annie wore them for 30 years, so you certainly don't need any motivation for the acting. We're always on the verge [of tears]."
LIKE US ON FACEBOOK | FOLLOW US ON TWITTER