This year's 'Big Brother' will always be remembered for the return of several familiar faces to the house, and now that Chloe Wilburn has been named winner, they've all been sharing their views on the result.
SEE MORE:
Although none of the Time Warp housemates were present at the final - with Aisleyne Horgan-Wallace alleging that her absence was due to a "security risk" - the 'BB' veterans have been as vocal as ever on their Twitter pages about Chloe's victory.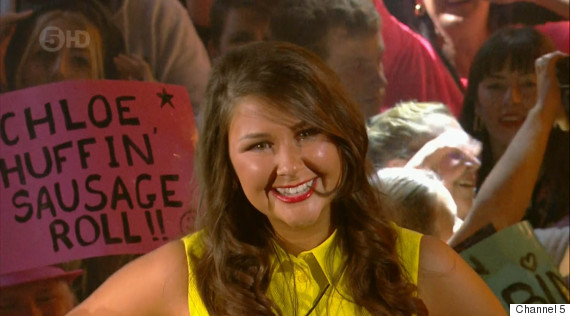 This year's 'BB' winner, Chloe Wilburn
The majority of the returnees have been jubilant about Chloe scooping this year's winner's title, with Aisleyne leading the congratulations on her social media account.
Omg I just screamed so hard for @ChloeJade59 on snapchat I think I've lost my voice 😂😩😍😍😍😍 WELL DONE BABY GORL DO IT FOR THE #Normalgirls 💕

— AISLEYNE (@Aisleyne1) July 16, 2015
Well done Chloe . #bbuktimebomb @bbuk

— Dexter_koh (@dexter_koh) July 16, 2015
Congrats Chloe darling!!!!!! And congrats Christian, Nick, Jack, Danny and Joel!! You're all winners 😘😘 xxx

— Nikki Grahame (@Nikki_Grahame1) July 16, 2015
Go on the Clo!!! @ChloeJade59 Congratulations on the Win!! Well done @JoelTory on coming second #bbuk

— Brian Belo (@brian_belo) July 16, 2015
Of course, not everyone was quite so jubilant about Chloe's victory, with Helen Wood in particular retweeting a few posts, claiming that she wasn't exactly a worthy winner.
@Helen_Wood86 my reaction tonight 😂😆😅 pic.twitter.com/rnL7GIX8W2

— Patrick Ward (@patrickward703) July 16, 2015
This time last year i was jumping round after i won £300 on @Helen_Wood86 won, now don't think Il watch it ever again after #bigtongue won 👎

— Lee Dennison (@CERN_Ds) July 16, 2015
She was also asked what she would ask Chloe, given the opportunity to interview her, and couldn't resist having a dig at her successor to the 'BB' throne.
Where have you been? Who are you? 😂 Jokes, erm God knows, I actually can't think of anything 😐 https://t.co/Rh423aOmVq

— Helen Wood (@Helen_Wood86) July 16, 2015
On the other hand, Jasmine Lennard - who made quite the impression when she entered the Borehamwood bungalow, during the 'Hotel BB' task - was one of the few people who was actually campaigning for Cristian MJC to be crowned this year's winner (though that might be down to the fact they got rather steamy during their short time in the house together).
That money means SO MUCH to @ChloeJade59 how wonderful. So thrilled for her right now. THE SWEETEST GIRL. So deserved. SO deserved.

— JASMINE LENNARD (@Jasminelennard) July 16, 2015
Speaking after her victory on Thursday night, Chloe told Emma Willis: "I thought I was going on a Club 18-30 holiday with all these people from all over the country, that we'd be getting drunk and I'd just be back home in a couple of weeks. But it was so hard… Chuffing hell, I've had more tears in there than I've had in my whole life."
Despite the tough times, Chloe admitted she'd had the "time of her life", insisting: "I'd go back in now."
The good news for anyone who's going to miss their nightly 'BB' fix is that we've only got a few weeks until 'Celebrity Big Brother' kicks off - and here are some of the famous faces thought to be taking part...
LIKE US ON FACEBOOK | FOLLOW US ON TWITTER