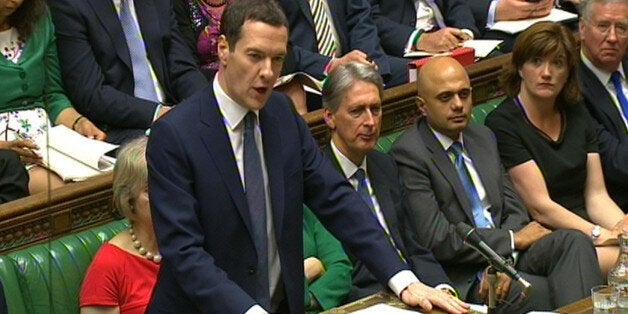 George Osborne is poised to boost schools funding in Conservative-supporting areas at the expense of Labour's heartlands as part of his latest shake-up of Whitehall spending.
The Chancellor's commitment to "fairer funding" came as he today announced Government departments would be asked to consider cuts of up to 40% over the next four years as part of his Spending Review, which has been set for November 25.
Schools in rural and suburban areas have long complained they face a cash shortfall compared to their equivalents in cities and major town, and argue they face added pressures from higher transport costs because of their sparsity.
A one-off £390 million increase for under-funded schools has been agreed for next year, but critics say this is a temporary measure and the funding formula needs to be redrawn. Labour MPs have long argued urban schools need to extra cash to help overcome inner-city deprivation.
A Treasury document accompanying today's announcement says: "The Government will make schools funding fairer and focus efforts to support school improvement in underperforming areas, including coastal areas, encouraging the best academy chains to expand and bringing new sponsors where needed."
As part of his review, Mr Osborne has asked non-protected departments to model scenarios with 25% cuts and 40% cuts to find an extra £20 billion of savings by 2019.
He is also to abolish automatic pay rises to senior civil servants to save cash.
The Chancellor also said departments have been asked to help meet a target of 150,000 new homes on public sector land by 2020.
Departments will be asked to set out how they will sell of publicly owned land so it can be used for housebuilding. The taxpayer owns land worth around £300bn, with the Ministry of Defence alone owning 1% of all the land in the UK, according to the document.
Along with cutting departmental spending, the Government is making £12bn of savings from the welfare bill and aims to raise £5bn by clamping down on tax avoidance and evasion.
Mr Osborne said: "This Spending Review is the next step in our plan to eliminate the deficit, run a surplus and ensure Britain lives within its means.
"We'll invest in our priorities like the NHS and national security. Elsewhere in government, departments will have to find significant savings through efficiencies and by devolving power, so people have a greater say over the issues that affect them and their communities. We'll deliver more with less.
"The Spending Review will be set out on November 25. Creating a strong and stable economy is the best way to support working people."