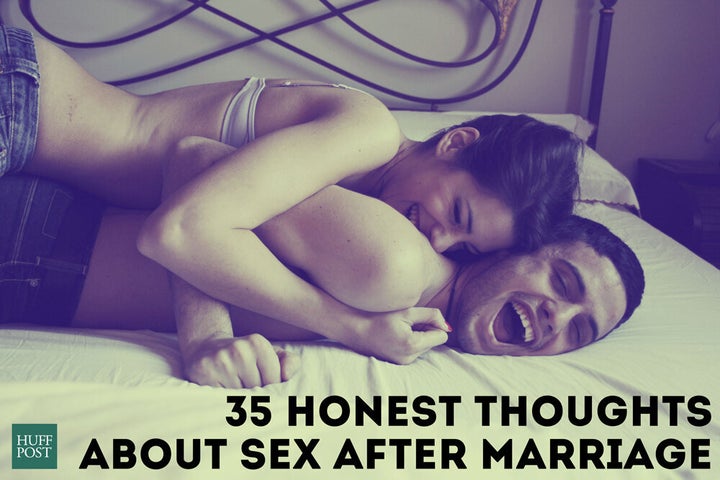 What happens to a couple's sex life after they say their "I dos"? It depends who you ask.
We recently posed that question to our readers on Facebook, and their responses ran the gamut -- some were painfully honest, some were wonderfully sincere and others were lighthearted and playful. Find out what they had to say below.
1. "A possibility till you find out he used all the jelly and coffee cream again."- Caragh G
2. "Ordering your favorite ice cream. You know what to expect every single time." - Jenny J.
3. "Hard to come by." - Aaron E.
4. "Like sex before marriage. I mostly do it by myself." - Steven C.
5. "What you make it. Come on, people -- be accountable!" - Karen W.
6. "Kinda like going on Space Mountain. It's a good ride, but there's never any real danger." - Jay S.
7. "About timing: trying to either make or prevent a baby." - Jasminne M.
8. "A myth." - Cnoevil H.
9. "Realizing your ceiling needs to be painted." - Nina R.
10. "The same as before you were married." - Kathryn B.
11. "Routine." - Gina Marie T.
12. "A priority. Consider it like an appointment and schedule time for it." - Lori S.
13. "Hilarious -- especially when you're interrupted by a sleepy toddler." - Jessica G
14. "Like going to Disneyland and being the only two people in the park." - Rio T.
15. "Impossible. We have six kids." - Crystal H
16. "Like a Bigfoot sighting! "- Teri O.
17. "Unf**kingbelievable!" - Yael E.
18. "Like getting to the bottom of an ice cream cone and finding out there is chocolate!" - Sarah F.
19. "Infrequent, yet still obligatory." - Ian G.
20. "Fantastic! Someone knowing your body inside and out, and knowing exactly what to do to it is pretty damn mind-blowing." - Skye B.
21. "The most important. You didn't marry a roommate. Keep it a priority." - Chantal L.
22. "Better than ever! Way Better. Even after 31 years of being together." - Carol W.
23. "Vanilla."- Jennifer K.
24. "An exercise in frustration. You want it but you're tired and it's a whole lotta work." -Seraphina G.
25. "A series of diminishing returns on the initial investment." - Sharon M.
26. "Is the epitome of a good relationship and the icing on the cake." - Debbie L.
27. "The start of keeping the intimacy alive with fun and new ideas that you can explore with your husband or wife." - Liz C.
28. "Heaven." - Christina M.
29. "What each of your libidos makes it." - Dianna W.
30. "Just gets better and better." - Ellana D.
31 ."Monogamous." - Gwen N.
32. "Part of an ongoing process just like marriage itself. Both need patience, communication, give and take and at times a sense of humor." - Judith V.
33. "Connecting! Intimate! Comforting." -Marsha R.
34. "Forces you to get creative." - Eros B.
35. "Freaking awesome and enough on a biweekly basis." - Sophie G.