If you've got an Instagram account and you love photography, then you've probably heard of @London. No doubt you've either liked, shared or even tagged #ThisIsLondon in an attempt to get them to feature your image.
There's an incredible story that lies behind their one million plus followers and it all started with Jamie Oliver. CEO Dave Burt tells us in his own words how it all started.
"I'm not a photographer. Well now, maybe" Burt tells The Huffington Post UK. "But certainly not back then, and definitely not by trade or profession. I've never even owned a camera. I've always been a creative though, with varying abilities in the digital space, arts and music. And so Instagram fascinated me from the outset, simply allowing me to use my smartphone to share what i was doing, as i was doing it, and in a vaguely beautiful way. The early days of using their retro filters and trying to conform my content to a square format was fun, an average photo turned into a shade of retro coolness, and a snap representing a moment.
"What became addictive though was the community. Sure the platform has evolved over the years, the features have changed slightly here and there. But to this day, there exists one constant - a very special community of people and users that numbers over 300 million today. I was connecting with people all over the world, and discovering amazing characters, places, technology, destinations, music, events, all sorts. And actually I was discovering people who inspired me in those early days, people like @mattscutt, who years ago began to encourage people to stop and look up once in a while. That simple act of looking up was about getting a different perspective on the world around you, and seeing places and situations differently. And so the #lookup began to trend amongst Instagramers.
"I love that. Someone inspired Matt. Matt inspired me. Hopefully I've inspired someone else. And so the Instagram community goes around. It is a relentless source of inspiration. The more hours you have, the more you can discover. Anyone who still thinks Instagram is still about photos of your cappuccino needs to get real. And by the way, if your photos of your cappuccino end up leading me to better coffee, you are a saint! But back to the point… humanity has never before had a platform like this, affording us the ability to discover new cultures, buildings, religions, people, technology, inventions, food, drink, and food, yes, I know I said food twice.
"Two years ago, which was about two years into my Instagram adventure, I started dreaming of living a different life and doing something creative with Instagram. I knew the creativity, the network, and experiences people were having were exciting, continually evolving and growing, and I was sure it would ultimately lead to an opportunity for me. I wanted to make a difference, and I've always wanted to do something ground-breaking - that's the entrepreneur in me.
"I had to believe there was more to life for me than being a slave to an annual sales target. You see I'd been working from the age of 18 in major global blue-chip technology companies, with the later roles carrying multi-million sales quotas. Whilst you can earn very well in these kind of jobs, it takes over your life. I'd seen people literally die from stress. Marriages broken because work took over. To be honest, unless you're willing to commit your existence and life-style to the cause, you will fail. It's that simple. You may occasionally come across someone very lucky, but believe me, you need laser-sharp focus to operate in this culture and industry. And in those last few years I began to feel like an imposter and despite trying to be professional, and a good corporate citizen, it wasn't enough. I didn't belong.
"So two years ago, I was searching around Instagram and discovered that the @London user account had been inactive for several years. It was taken, but never used. I've always been an "If you don't ask, you don't get" kind of person, so i threw an email over to the team at Instagram and proposed that I take over the account in order to "Tell London's story beautifully" using their platform. Little did i expect the email that came back 2 hours later that said the account was indeed inactive and they were very happy to set me up as owner of the account. I nearly fell of my chair. I knew it could be life-changing. This was in fact a defining moment.
"From that day I have posted 4 unique pieces of content on @London every day, non-stop, for 2 years. The aim was simply to show London to the world in the most beautiful way I could. We have pursued excellence in our own content curation and worked hard to also crowd-source incredible content, recognising that by collaborating with the Instagram community across the city, we are able to showcase more of London in one day than wold ordinarily be possible on our own. Contributors receive the benefit of significant exposure and the chance to increase their own following. So there is mutual benefit and a wonderful togetherness that has unfolded as we support other Instagram users, and they also invest in showcasing their own city to the world.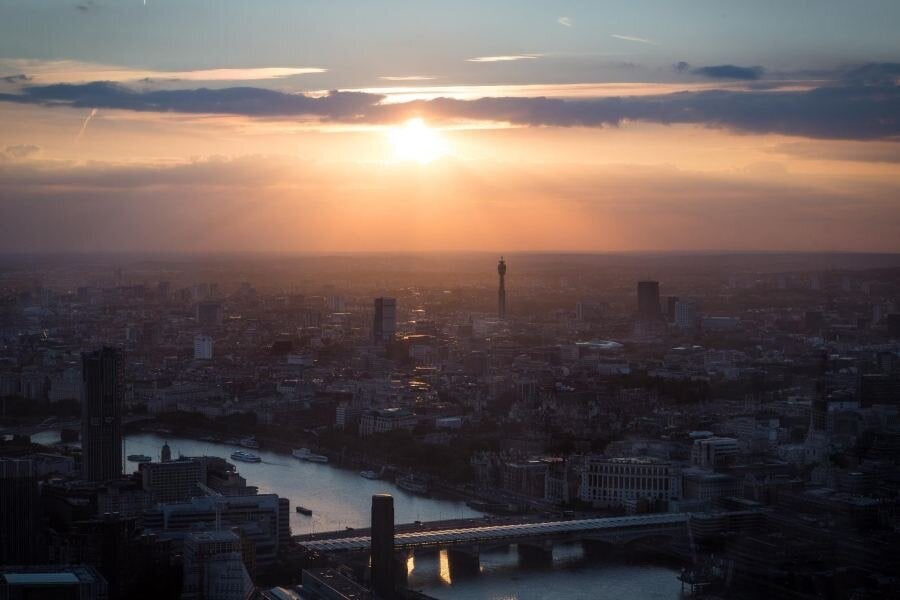 Dave Burt has some incredible perks associated with his job.
"In the first year we grew from ZERO followers to around 120,000 followers following a shoutout from celebrity chef @JamieOliver, who in a moment of support suggested that everyone should follow us. We gained 50,000 followers that day sending us smashing through the 100k barrier. In the second year the trajectory of growth has been phenomenal, sometimes gaining as many as 40,000 followers per week. We were also made a "suggested user" by Instagram, which means that for a 2 week period Instagram was effectively recommending our account to its user base and anyone registering new accounts on the platform. During that 2 week period we gained 256,000 new followers. I was speechless.
"For several years London has been the most visited destination in the world. Our channel is testimony to just how much London is loved and revered, all over the world. It's easy for people to follow us, because they already love London, and we are simply giving them a chance to see London daily in a stunning way. People are fascinated by the old, the new, the quirky nature of the British, and our culture. And so we've gently evolved the channel over time in order to increasingly showcase places to go, where to get "that shot", historical locations, major events, places to stay, places to eat and drink, and so on.
"In parallel though, we've also built up an incredible London-based, authentic community of Instagram creatives numbering well over 2,000 users, which meet up regularly to attend "Instameets", a term referring to a gathering of Instagram users. Our Instameets range in format, from pure socials, to incredible events with exciting itineraries, executed in some of London's most incredible locations, but always with the aim of allowing people to connect with other users, regardless of age, background, profession, skin colour or ability. The aim is simply to inspire, to foster authentic creativity, and to create a culture that is rooted in loving one another and being accepting of people, no matter who they are.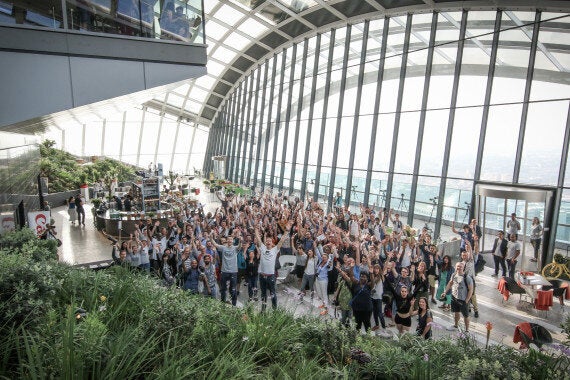 Mr Burt masterminded the @London 'Instameet' with 200 of his Instagram followers
"We now partner with other organisations who help us to create arguably some of the most innovative social media events in the world. When you unite the community with an incredible experience, it's like lighting the touch paper of a firework… you've done all the preparation, you've aimed the firework, and you know things will explode creatively and socially. But you never know fully what the explosion will look like until it goes bang. Events generate hundreds and thousands of pieces of content that inspire millions of people all around the world. It's a phenomenal things to be part of, never mind organise.
"At the beginning of 2015 I finally quit IT, and went full time with @London and my own agency. I experienced the most profound sense of freedom the day that i handed in my notice. I had been on a hamster wheel for years, never knowing when it would stop, or if perhaps it would actually be the death of me. I had reached that point where I knew in my heart of hearts, by going full-time i would be able to achieve exponentially more than i could ever dream of, just by getting the head space and energy back, and by putting all of the professionalism, drive and determination into something i'm passionate about and believe in fiercely. And now looking back at that hamster wheel, I'm amazed i lasted so long. It seems like madness now. It's no longer an existence i can relate to and I can never go back. I'm completely incompatible with that way of life.
"Today I'm in the business of global story telling, which is simply the art of creating incredible experiences, creating an environment that inspires ground-breaking content creation, and working with some of the world's most incredible influencers to amplify those unique moments to the world. And so as our story continues to unfold we find ourselves creating events all over the world, not just in London, as we help other organisations get on board with the idea that content creation can be genuine expressions and interpretations of profound moments. It's not advertising. It's a people thing. Partners share our vision for authenticity and our passion for the community. Bringing the partners and community together has become we what love to do most.
"For @London, I remain immensely proud of what we've built. We have a reach of 150m views per month today. That's insane when you think about it.. in just 2 years!? We also recently launched a SnapChat channel to compliment the Instagram channel, and our behind the scenes style of "snapping" London has been very well received by an audience that have moved en-masse to follow us on SnapChat also. Within 2 months of launch we have been getting anything up to 1 million views per day. It's crazy.
"I genuinely don't know why this has happened to me, but i know I'm enjoying the ride and trying to do the best i can with the blessings i've been given. Every day is exciting. I regularly get stopped in the street by fans from all over the world, from whole student groups from Paris and Madrid, or muslims from Dubai, to local Londoners in Oxford Street. Everyone we meet is inspired by what we do, which inspires us to keep going and do more. We also get to attend the most incredible events from prestigious red carpets, to festivals, and VIP events such as the Brit Awards. I continue to be amazed by the people i have been able to meet. Genuinely, I am humbled. Who would have thought four years ago, or two years ago in fact, that all of this would have been possible? A smart phone and an app. That's it. Don't ever let small minds convince you that your dreams are too big."
Take a look below for Dave Burt's favourite pictures from the @London Instagram account.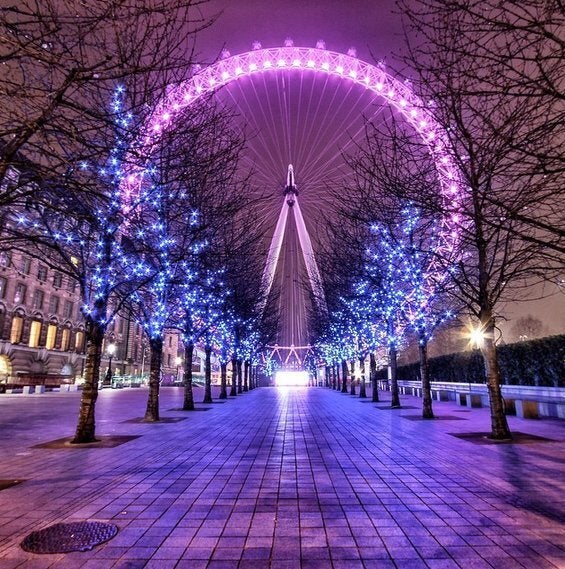 Dave Burt's Top 8 pictures from @London