One Direction fans were in a tizz on Thursday evening, thanks to former band member Zayn Malik.
Harry Styles, Louis Tomlinson, Niall Horan and Liam Payne had all been tweeting their thanks to each other and fans, as they celebrated 1D's fifth anniversary.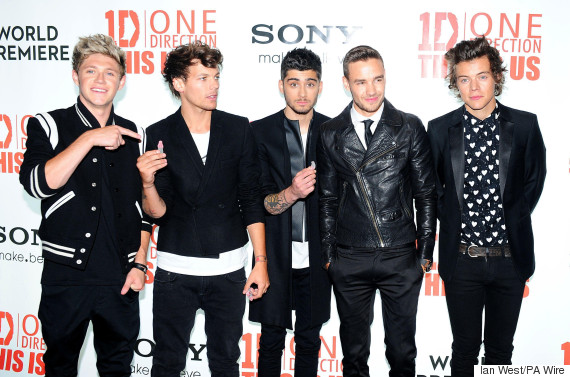 We still miss these days :(
While all the lads posted messages, Liam was the only singer to namecheck his bandmates past and present, writing:
Wowwwww 5 years 5 boys what an amazing journey I couldn't thank you all ever enough and thank you Louis Niall Harry and zayn for everything

— Liam (@Real_Liam_Payne) July 23, 2015
Thanks for all the memories boys I love you all

— Liam (@Real_Liam_Payne) July 23, 2015
Zayn, who departed the group earlier this year retweeted Liam's message, and then quickly sent a reply.
He wrote:
@Real_Liam_Payne thanks bro ! 😀 x

— zaynmalik (@zaynmalik) July 23, 2015
Naturally, Directioners were beside themselves with delight at Zayn's kind words, and rushed to tweet the stars:
@zaynmalik @Real_Liam_Payne MY HEART😭❤ WE'VE MISSED U SO MUCH ZAYN😭❤❤❤

— ʍօßiռa :D (@_mobina_) July 24, 2015
ZAYN AND LIAM OMG OMG I FREAKIN OUT

— hes ☀︎ (@voguestylnsn) July 24, 2015
HOLY FREAKING SHOOT... ZAYN & LIAM TWEETED EACH OTHER YESTERDAY.

ZIAM INTERACTED HERE ON TWITTER YESTERDAY.

OH, MY GOD.

— liyanh hates school (@cliffopayno) July 24, 2015
HEY GUYS OMG I WAITED FOR ZAYN TO TWEET LIAM AGES OMG

— all the LOUve (@Zayn_Cute_Malik) July 24, 2015
IM SO EMOTIONAL BC LIAM IS TELLING THAT ZAYN IS STILL A PART OF ONE DIRECTION AND ZAYN REPLIED TO HIS TWEET MY ZIAM HEART 😭😭💕

— 3 days till my bday (@skygazeniall) July 24, 2015
Who knew one small tweet could mean so much, eh?
Zayn's been having a bit of a tough time recently, and it was recently revealed that his solo material won't be released on Simon Cowell's label Syco. Instead, it's believed that another Sony-owned label will pick him up.
He also recently hit headlines after a Twitter spat with producer Naughty Boy.
The former BFFs fell out over a leaked video, which featured Zayn with rap duo Krept & Konan.
LIKE US ON FACEBOOK | FOLLOW US ON TWITTER