Amazon has launched its music streaming service, Prime Music in the UK, in a bid to rival Spotify and Apple.
From today, the service will be available to all Prime members paying the annual subscription fee of £79.
Prime music will work in the same way as Spotify, offering listeners curated playlists classified according to genre and mood as well a million songs that members can create their own playlists from.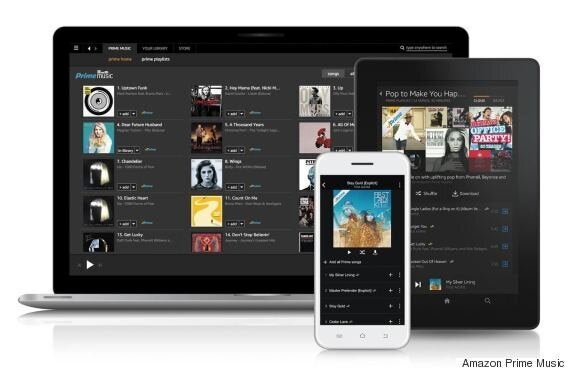 However, the main disadvantage users will face is the palpable lack of artists, including Katy Perry, Kanye West and Eminem, who are signed to labels belonging to the Universal Music Group.
The only way subscribers will have access to these songs is by buying the album or single.
Despite Prime Music's smaller catalogue of songs available for streaming -- Apple and Spotify have over 30 million songs each -- Amazon believe the dearth of Universal Music artists will not put Prime users off.
Paul Firth who is the head of music at Amazon UK, says the service is not really intended to rival Spotify or Apple music, primarily because of the marked differences in costs to users -- Spotify premium, an add-free service, costs £9.99 per month.
He told The Huffington Post: "We don't need them to fail in order for us to win."
"It's all about the playlists and artists that are unique to the UK, over 500 playlists have been built and we are making sure that the million-plus songs we have in the list are right for British customers."
The distinction between the UK and US market appears to be a key one for Amazon, who launched a similar service in the US over a year ago.
"We wanted to build it from the ground up and fill it with UK artists so that the playlists suited British audiences," Firth continued.
For now, Amazon say the lack of Universal Music artist has not affected its US music streaming service and they don't believe it will hinder the service's success in the UK.
Although their longterm vision is to grow the platform's catalogue of songs, something they won't be doing (for now) is bringing their own version of Zane Lowe to amp up their audiences.
"What we've seen in the US is that people care about a great list of tracks not how the list has been put together," Firth said.