'The Voice' could be about to land itself a brand new home, following reports that ITV is looking to steal the TV singing contest from the BBC.
SEE MORE:
Earlier this month, Culture Secretary John Whittingdale proposed that cuts should be made to BBC spending, later launching a consultation process to decide which of the corporation's services would be affected.
Among the shows tipped to be in the firing line is 'The Voice', which has had millions spent on it since its UK launch four years ago, despite a lukewarm response from viewers.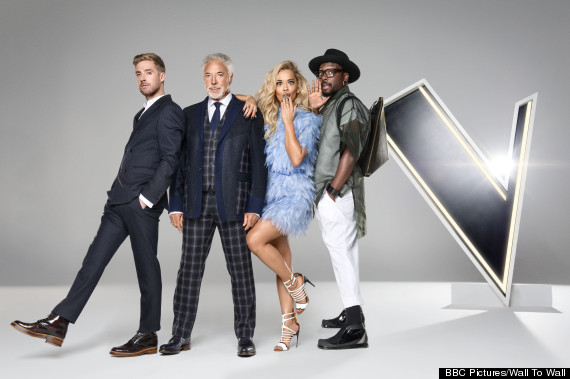 The most recent incarnation of 'The Voice' judging panel
However, the show's (admittedly less-than-vast) fanbase needn't worry about the show disappearing from screens completely, as it's now been claimed ITV could sweep in and take the show, when its fifth series airs next year.
A source tells The Sun: "If ITV got The Voice it would be a huge coup and send shockwaves through the TV world.
"Entertainment programmes are hard to come by, so strong ones like this are at a premium. But a deal is becoming more and more realistic by the day."
The news comes after it was confirmed that former 'Voice' coach Rita Ora was crossing over to ITV, to judge the next series of 'The X Factor'.
According to The Sun's source, ITV are keen to land 'The Voice', hoping it can fill in the scheduling gap between 'X Factor' and 'Britain's Got Talent'.
"January to April has been a quiet time for them since they dropped Dancing On Ice in 2014," the insider continues, "ITV would dominate Saturday night TV. BBC would have no blockbuster formats other than 'Strictly Come Dancing'."
What's more, ITV also purchased the production company behind the show, Talpa Media, earlier this year.
The BBC have one series of 'The Voice' left on their current deal, with Paloma Faith having been named as a potential replacement for Rita on the judging panel.
LIKE US ON FACEBOOK | FOLLOW US ON TWITTER