Morrissey has accused an airport security officer of sexually assaulting him, during a recent trip.
Writing a post on the online Morrissey zine True To You, the 'Everyday Is Like Sunday' singer claimed that he was "groped" by a staff member at San Francisco International Airport, where he was boarding a flight to London, on Tuesday afternoon.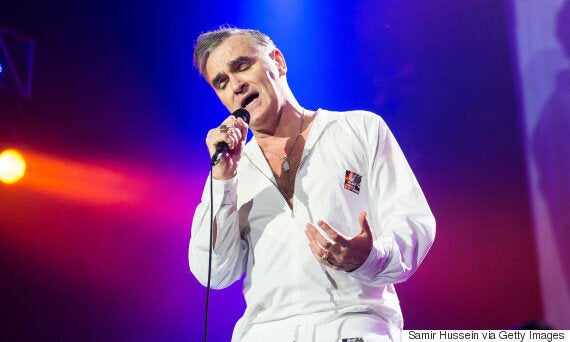 Morrissey performing on stage
"Before I could gather my belongings from the usual array of trays I was approached by an "airport security officer" who stopped me, crouched before me and groped my penis and testicles. He quickly moved away as an older 'airport security officer' approached."
Morrissey also reveals he was travelling with two members of British Airways Special Service, who urged him to file a complaint against the alleged assailant, who he says was the General Manager On Duty.
He goes on to claim that before filing the complaint, he spoke to the officer, who repeatedly told him: "That's just your opinion."
"The words 'that's just your opinion' volunteered themselves from this 'officer's' mouth before he had even heard the question. He knew he could be confronted, but he also knew that he could never be challenged (even though the entire incident is most certainly on CCTV camera)."
Morrissey had been in California to wrap up his most recent US tour. He's due to return there next month, to perform a string of dates, including a scheduled appearance at FYF Fest in Los Angeles.
Popular in the Community