Facebook has finished building a solar-powered drone that it says will bring internet access to remote parts of the world.
Writing on his page yesterday, Mark Zuckerberg referred to the unmanned vehicle as the company's "first full scale aircraft, Aquila," that will further their Internet.org effort.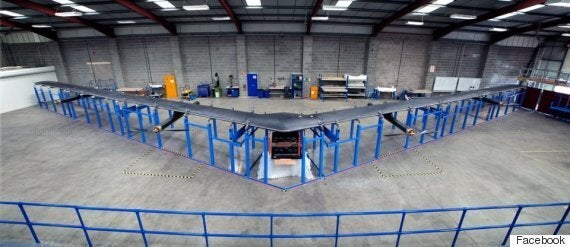 The drone has the wingspan of a Boeing 737 but weighs less than a car and can stay in the air for three months at a time.
Supported by a carbon-fibre frame, it will be able to beam "connectivity down to people from an altitude of 60,000 to 90,000 feet."
According to Reuters, the unmanned aircraft was built in 14 months and will require balloons to lift it off the ground.
"This effort is important because 10% of the world's population lives in areas without existing internet infrastructure," writes Zuckerberg.
Testing will begin in the US, later this year.
Jay Parikh, vice president of engineering said "Our mission is to connect everybody in the world.
"This is going to be a great opportunity for us to motivate the industry to move faster on this technology."
Facebook's announcement comes days after Sri Lanka announced a partnership with Google that will give the entire country internet access using the tech giant's high altitude balloon project-- Google Loon.
Related