Greig Trout was first diagnosed with cancer at the tender age of seven.
"I had a stage 4 Wilms tumour [a type of kidney cancer]," he tells HuffPost UK Lifestyle. "It was pretty advanced and I had tumours in my kidney, my lungs and my arteries. I had to have extensive chemo and radiotherapy, and have my right kidney removed."
Trout survived the ordeal and went through his teens cancer-free.
But in 2001 Trout, who was then 21 years old, was diagnosed with deep vein thrombosis.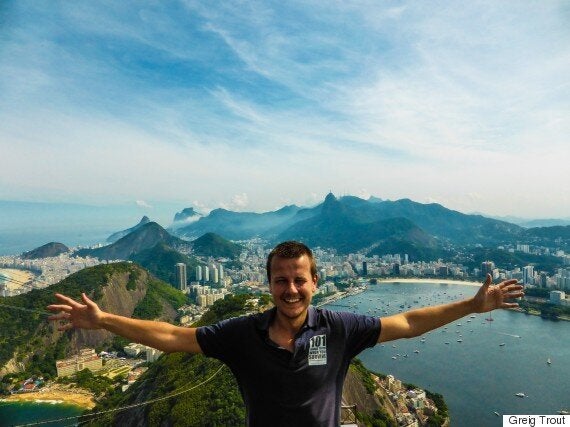 "Doctors believe that my veins had deteriorated due to the radiotherapy I received as a child," he explains.
"The main vein that takes blood back to my heart has been blocked ever since and as a result I have to take lifelong blood-thinning medication.
"But the amazing thing is that my body adapted naturally and used a series of other veins to get the blood back to my heart instead."
In 2010, after hitting 30, Trout was dealt another hefty blow after being diagnosed with stage 2 bowel cancer.
"Once again the life-saving treatment I received as a child was believed to be the cause," he explains.
"After an operation which saw a third of my bowel removed alongside more chemotherapy, I was all set to crack on with life. However, my mind had other plans for me."
Following the ordeal, Trout suffered post traumatic stress disorder.
"I couldn't get the thought of cancer out of my head," he reveals. "I thought I was losing my mind as I never associated PTSD with cancer.
"I was under the assumption that I should be the happiest, most grateful person in the world.
"Sadly this wasn't the case. I became someone who didn't want to go out and was constantly worried. I tried different forms of therapy and, eventually, antidepressants."
But nothing seemed to work.
When Trout visited his doctor for his two-year check up, he gave up his seat in the waiting room to someone who needed it more.
He then stood for almost an hour waiting to see a doctor, during which he thought to himself: "How amazing is it that I can stand, despite all the things my body has been through?"
From this small step forward came something huge - Trout decided to travel the world and rather than just focusing on enjoying himself, he also set out to inspire others to do the same.
"I decided I would follow a lifelong dream and travel the world," he says. "Something I had always put off."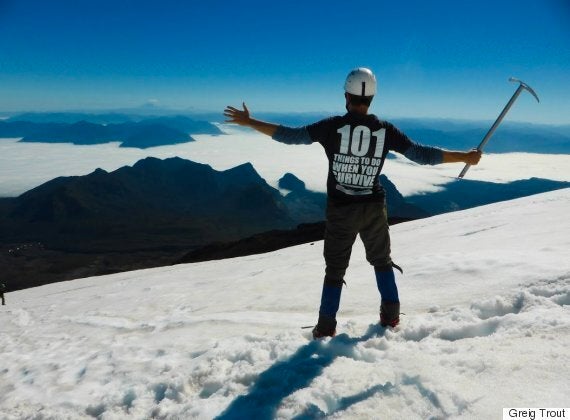 "I thought how wonderful it would be if I could take people with me on this trip, so I decided to host a blog.
"The idea was to show others that there is life after cancer and that there is a wonderful world waiting for them when they do."
Trout also wanted to raise awareness of the mental health issues associated with serious illnesses such as cancer.
Trout listed all of the things he'd ever wanted to do in life, which - at the time - came to roughly 45 ideas. But as he travelled, he found himself adding more and more to his list.
"It's a kind of anti-bucket list," he explains. "Things to do now or when you are better, rather than before you die. A place to inspire others and spread a bit of hope to those battling cancer and mental health issues."
After making the list, Trout's life became something of a whirlwind. He sold all of his belongings, moved out of his flat and lived with his brother and sister-in-law for a while so he could save money.
Eight months later, he set off for Costa Rica.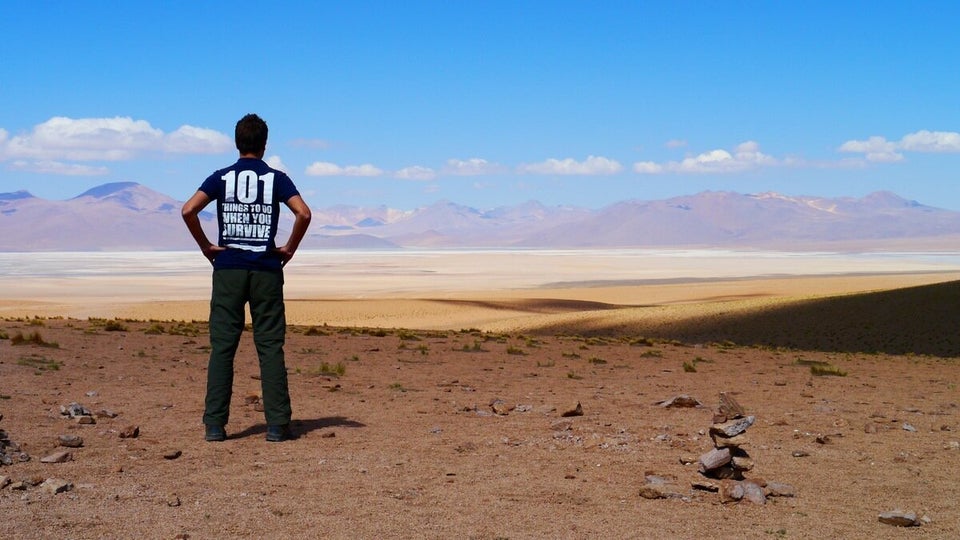 101 Things To Do When You Survive
"Just writing my list was the best therapy ever," he says. "In the months leading up to my trip my skin cleared up, I started to sleep again and I was back to my old happy and optimistic self.
"The main aim of my trip was to find my happiness and start enjoying life again but I achieved this before going away on the trip. Cancer was not my main focus anymore."
Over the course of two years, Trout - who is now 35 years old - ventured to 23 countries, volunteered at a handful of organisations, fundraised for various charities and raised awareness of PTSD.
He also ticked 41 things off his impressive anti-bucket list including: singing on stage at the Sydney Opera House, cycling across an American state, learning to tango in Buenos Aires and jumping out of a plane.
Through the blogs and videos he's produced during his travels, Trout has been able to inspire and help thousands of other people - either by boosting their spirits and giving them hope to people being treated in hospital, or by raising money for hospices and health charities.
And in doing so, his life has completely transformed.
"I've learnt that by helping myself, I've been able to help lots more people," he reveals.
"I've gone from believing that I would never get my energy back, to climbing volcanoes and trekking with a huge backpack on.
"On paper I might sound like a medical nightmare: cancer twice, one kidney, DVT, part of my bowel missing; but I feel like the strongest and healthiest person alive."