Stacey Solomon speaks candidly about one of the most challenging issues facing new mothers: post-natal depression.
The singer and presenter opened up about how she scared she felt after having her first son at 18, and how tricky it is for many women who may be suffering from the condition to discuss it.
"I don't know if people feel slightly humiliated or if they've done a bad job if they feel that way inclined," Solomon said, speaking to Rochelle Humes.
"I felt really trapped, like I'm going to be terrible, like I'm not going to be able to do this, I can't live up to what the responsibility is. I just didn't feel I had it in me as a person, which is crazy because I absolutely adore my children and I would do anything for them."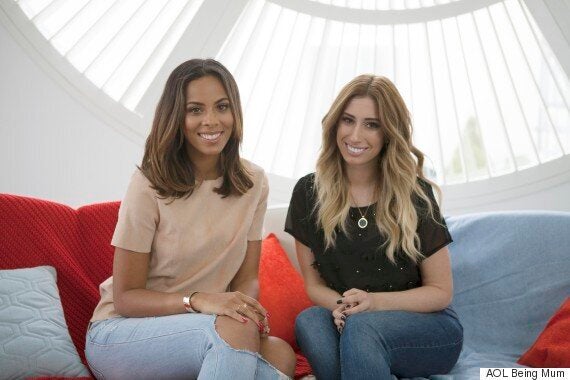 The single mum to six-year-old Zachary and two-year-old Leighton said the most helpful thing in getting over her post-natal depression was speaking to her mum and learning she'd also suffered from the condition.
"And then I started to feel normal. And when I spoke to groups and certain people that were in the profession as well and they looked at me as if to say: 'Yeah? Thousands of women out there, you're completely normal.' It's only then that I felt, 'Oh, OK.'
"It's something that takes over your body. You've got so many hormones going on."
Solomon was interviewed by Rochelle Humes as part of AOL Original series, Being Mum, and said she would advise other mums feeling trapped to go and speak to someone and ask questions about post-natal depression to realise they're not suffering alone.
Solomon also opened up about being "stricter than she'd ever thought she would be as a parent," something she never expected.
"My parents were very strict - not in a horrible way, just in a morals, discipline, you do this way - and I always thought, 'When I have kids, I'm not going to make them do that.'
"But I am the opposite. It's exactly how I was brought up."
Watch the interview in the video above to see Solomon talk single motherhood, gush about her "crazy" and very different boys and explain why the best praise she can get comes from her boys.
"I work really hard and they are unbelievable. I'm a lucky woman; I've got incredible children and I absolutely adore being a mum," Solomon says.
The Being Mum series, hosted by Rochelle Humes and Tess Daly, is a beautiful and humbling series that defines what it means to be a mother today.
In each episode Rochelle or Tess will meet a well-known personality, or a mother with a remarkable story, to discuss the ups, the downs, the ins and outs of what being a mother is really like.
Related