On the 125th anniversary of Agatha Christie's birth, scientists have finally come up with a formula for identifying the murderer in her best-selling works.
In a career lasting nearly 50 years with sales that have made her the bestselling crime writer of all time, the queen of detective fiction wrote 66 detective novels, and created such memorable sleuths as Hercule Poirot, Miss Marple, Parker Pyne, Harley Quin and current 'Partners in Crime' duo Tommy and Tuppence Beresford.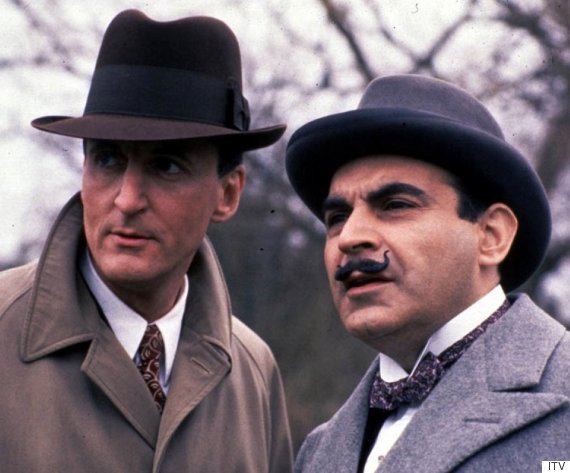 David Suchet as Hercule Poirot with sidekick Captain Hastings (Hugh Fraser)
Now, taking into account all the different storylines, characters, family trees, motives and means, a panel of analysts have come up with a new set of factors that new fans of Agatha Christie can try employing when enjoying her fiction.
Namely...
The killer will be introduced within the first half of the book
The killer is likely to be emotionally involved with the victim, most killers are spouses or blood relatives of their victim
If there are a lot of land vehicles in the story, the killer is most likely female
If there are a lot of nautical vehicles and aircraft in the story, the killer is most likely male
If the victim is strangled, the killer is most likely male (or male with a female accomplice)

Miss Marple (Joan Hickson) may appear busy with her knitting, but she doesn't miss a thing

If the setting is a country house, the killer is most likely female (75% chance)
The language used throughout the book to describe a female killer is usually more negative than when describing a male killer
Female killers are normally discovered due to a domestic item
Male killers are normally found out through information or logic
If Poirot is the detective, and the cause of death is stabbing, the killer will be mentioned more frequently at the beginning of the book
If Miss Marple is the detective, and the motive for the murder is money/affair, the killer will be mentioned more in the later stages of the novel than the beginning
This analysis of Christie's fiction was conducted by a panel of experts including Dr. James Bernthal from the University of Exeter; Dr. Dominique Jeannerod, Senior Research Fellow at the Institute for Collaborative Research in the Humanities at Queens University; and data analyst Brett Jacob.
The research was commissioned by UKTV Drama, who are celebrating Agatha Christie's anniversary with 'Agatha Christie Hour' at 8pm, weekdays from 3 – 14 August.
LIKE US ON FACEBOOK | FOLLOW US ON TWITTER