It was Walt Disney who discovered them, but it was Andy Williams who properly introduced the Osmond family to the world – the young siblings were invited onto his hit show for a one-off guest spot, they stayed eight years. Jimmy is always remembered as the littlest of the little Osmonds, and he first joined his brothers on stage when he was three.
47 years later, he bought Andy Williams' Moon River theatre in Missouri, and this year Jimmy is fulfilling a promise he made to the family's champion, and bringing the late entertainer's legendary Christmas spectacular to the UK for the first time.
"Our family were supposed to perform with Andy in 2012, but he passed away the night before, and his family asked if we would do the Christmas Show. It went over so well, we carried on with his family's blessing," he tells HuffPostUK.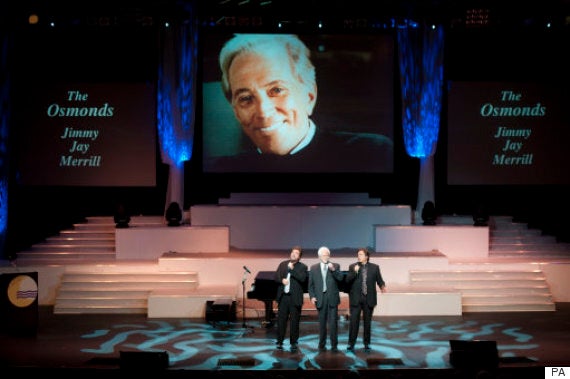 Three Osmond brothers pay tribute to their champion Andy Williams following his death
"He made me promise to continue his legacy. People come from all over the world to experience the nostalgic variety show. We've had so many people coming from the UK, asking us to bring it over the Atlantic, that I'm closing the show early in the US this year. I'm bringing it to your fair isle where, every Christmas, Andy Williams is on the TV. This year, those people can hear all their favourite songs live."
For nostalgic fans of the Osmonds' TV shows that dominated primetime in the seventies, it may come as a surprise that it's little Jimmy who's ended up running the show, as he puts it, "the clean-up guy". He says himself, "As I was growing up, I did not take myself very seriously. I was the mascot, so I was always asking myself, 'What am I going to do when this is over?' So I learned about all aspects of the business. I still enjoy being on stage best, but now I have a foot in both camps."
The Osmonds form a famously harmonious bunch of siblings, who appear to have avoided many of the pitfalls experienced by other child stars thrust into the spotlight. For this, Jimmy credits their parents.
"We've had our share of stuff," he admits, "but we had great parents, and they never celebrated or sweated the big stuff, there was no ego allowed.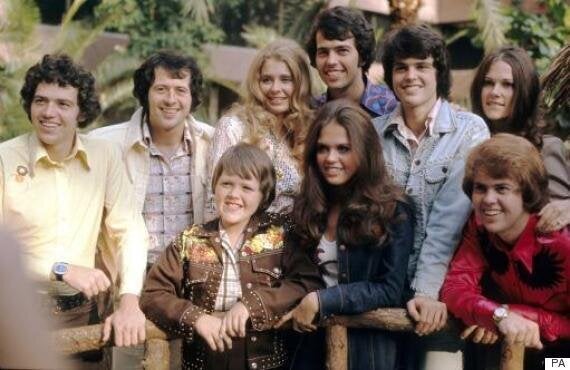 The Osmonds remain "intact emotionally" says Jimmy, despite their long time in the spotlight
"The truth is Donny and Marie and I wouldn't be here if it hadn't been for the older ones. We have always been a team. When one person is thinking 'Look at me, thinking I'm number one,' we've always let them have it.
"And we celebrated each other's successes and failures. We knew what we stood for before we got it into the business.
"We had a big family reunion a short while ago at Donny's house. And it was great to see everyone so intact emotionally."
Even Jimmy admits, though, it can be "interesting" working alongside brothers (Donny and Marie aren't part of their travelling show, as they have their own extravaganza based in Las Vegas). Jimmy says of one conversation, "One of my brothers was feeling down. I said, 'Hey, people still want to hear us sing, see us perform, if you're feeling down about that, you're an idiot.'"
He adds honestly, "But I've had my share of being on the other end of those conversations."
After a lifetime on stage, Jimmy and his siblings could be forgiven for taking it easy but, as he tells it, "it's not about you anymore."
"It's about the people who want to see you. And they want to hear songs that transport them back to a particular time in their life. And the way I see it, we're there to perform that service."
This reminds him again of his great mentor, Andy Williams.
"When Andy built his theatre, I asked him why he bothered," remembers Jimmy.
"He told me, 'Jimmy, I was dying, I was golfing. I felt like a pianist with no hands. This is what I do.'
Finally, last time I spoke to Jimmy Osmond, he was vehement and articulate about why he wouldn't be going to see hit musical satire 'The Book of Mormon'. Before we say goodbye, I ask for an update.
"Still, no," he confirms. "But they haven't done us any harm. We have no protests. We're very inclusive, even of those who mock us. I just think, now you've seen the play, why not read the book?"
The Osmonds will star in The Andy Williams Christmas Spectacular at venues across the UK this December. Click here for info.