Rihanna appears to be having the time of her life, while partying at a festival in her home country of Barbados.
As anyone who follows her on Instagram will know, Rihanna isn't exactly shy about posting photos on the social media site, and since attending the festival on Monday, she's shared a deluge of photos with her fans.
Taken at the Crop Over festival, the pictures show RiRi sporting a stunning, bejeweled outfit.
In one photo, which she has captioned 'black iz beautiful', a scantily-clad Rihanna is seen posing with two of her friends, all wearing sequined bikinis, as well as feathers, bright colours and a whole lot of glitter.
In another of the new-photos-that-we're-not-even-jealous-of-one-bit-nope-not-even-a-little-bit, she looks like she's living up to her 'Bad Gal RiRi' moniker, holding a drink in a bedazzled cup, wearing a peacock-esque headdress and an infectiously huge smile.
Rihanna also shared a photo of herself and a friend getting ready for the festival, where they're shown looking into a bathroom mirror, shortly before heading out for what looked like a seriously fun day of partying.
Seriously, though. If these photos are anything to go by, Rihanna's idea of what constitutes a decent Monday puts ours to shame.
RiRi, if you're reading this, we've already got our sequins and feathers at the ready for next year - keep us in mind, yeah?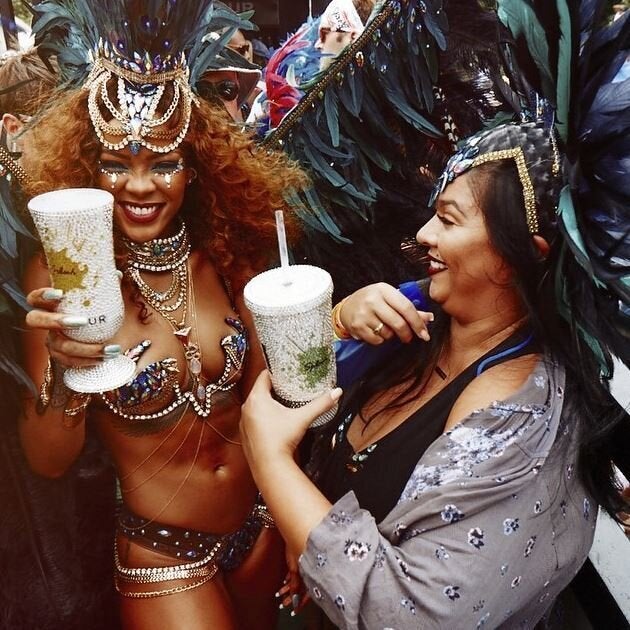 Rihanna Parties In Barbados
Popular in the Community