The UN Goodwill Ambassador for sexual health has taken a rather progressive approach in her deliverance of a sex education class in a Lancashire school.
In a documentary to be aired on Channel 4 tonight, Goedele Liekens, a practicing Belgian sexologist, explores an array of sexual taboos from hardcore pornography to sexual pleasure, all of which she foresees as progressing the approach to sex education already established in the UK.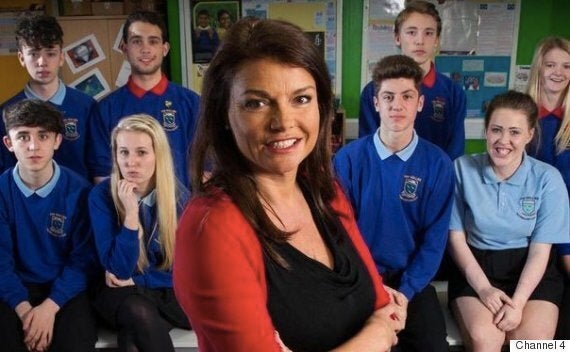 The documentary is not for the prudish and Liekens abandons all refrain in sexual matters to reveal the reality of the sex industry online, the correct conduct in sexual matters and encourages students to become sexually aware through a homework of 'exploring yourself'.
"You just have to look at the statistics to see that the UK is the worst pupil in Western Europe concerning sex education," Liekens said.
Funding for the National PSHE CPD training scheme, which enabled teachers to appropriately and confidently deliver sex education, was removed in 2010, and Liekens intends to convert her unconventional sexual education approach into a GCSE to fill the void left in UK sexual education.
The UK has one of the highest teenage pregnancy rates in Europe, with the Office of National Statistic's (ONS) figures showing it at 24.5 conceptions per 1,000 women under 18 in 2013.
"We are still lagging behind the rates of other countries in Europe; research based on 2012 rates found the UK had lower teenage pregnancy rates than only Bulgaria, Romania and [Slovakia] out of the 28 countries of the European Union," Harry Walker, the Policy Manager at the sexual health charity FPA, told The Telegraph.
Health officials believe that this rate of conception could be reduced if young people are given appropriate support, and the approach that Liekens is taking on national television may reinvigorate the debate over how to educate young people in sexual matters.
The programme is to be aired at 9pm tonight on Channel 4, and comes complete with copious blushing and giggling as is to be expected.
Liekens introduces the students to an array of sex toys, and, speaking to the staff watching in a state of perplexity, says: "Sometimes at the end of the course I give the girls sex toys as a gift.
"Is that OK or is that a step too far?" That is left for you to decide.