Mark Ronson could be leaning back in his chair and counting his Grammy Awards. He could be listening to 'Back to Black' and remembering how his work with friend and collaborator Amy Winehouse made musical titans out of both of them. Or he could be clicking on YouTube to see how many more millions have streamed the video for 'Uptown Funk', one of the year's most omnipresent tracks.
Instead, there's more work to be done, and he's hungry for it, and to discover his next muse, as he tells HuffPostUK.
"Always at the top of my list was Stevie Wonder, and having him play on my album was magic," he says. "I'd be greedy to have anything more than that. The next magic will come with discovering the next talent.
"Your legends and heroes are there because they've made some of the greatest music, but that's the word – it's made – it's behind them, and I'm really keen to hold out for something new.
"The thing is, I've always done most of my best work with artists who weren't necessarily massive at the time, so I don't get caught up in the current names.
"The next person who inspires me… It's going to happen. I'm out, going to clubs, DJing, having conversations."
Even with the pedigree in his craft, Mark remains as surprised as anyone by the success of 'Uptown Funk', now watched a stunning 900 million times on YouTube. But the ringmaster of that mammoth is quick to credit the talented people around him in the studio, not least vocalist Bruno Mars.
"I know all the work that went into it, and I've never worked so hard," Mark says calmly. "There were so many talented people working on one song. But you don't control what happens when it comes out. For some reason, everybody needed that record to come along when it did.
"We would be in the studio at 6am working on some aspect, and I would think 'that's good enough', but Bruno would be standing over my shoulder and he'd say, 'No, we're going to stay, it can be better.'
"Perhaps it's too early to compare Bruno to Michael Jackson, he's only made two albums, but it's those instincts that make up the greats.
"And maybe it's the job of us producers to recognise that when it happens, and respond to it."
Recently, Mark has teamed up with sound innovators Bose on the series 'Dropping Science' and this leads us to discuss what he describes as the thoroughness at the core of his success…
"I think you could definitely say the way people get most of their music has levelled the playing field, but there's still something to be said about taking the time," he says, referring to the hours he spends arranging his sounds.
"You could say, who cares? But it's what made 'Back to Black' so special. As well as Amy's voice, it was the tone, which so many people had tried to do before, including me. I'd tried to achieve it so many times, and it had never been authentic."
He shrugs. "That's all I have. The sound is the work I put into it.
"Even with 'Uptown Funk', which is a more modern clubby record, Bruno and I slaved. I must have recorded those drum sounds 80 times.
"The little kid singing along to his radio might not know until he's 18 what went into it, but there's a difference, and I like to think that's what makes it stand out on the radio."
Mark is arguably the most critically acclaimed of a new wave of producers who've increasingly come to share the spotlight with those artists out front. Despite his success, he's reticent to compare himself with the other titans…
"I trace it to Pharrell and Timbaland," is his view. "Those were the names you could trust that a record would be good whoever the artist was. And then Calvin Harris is incredibly prolific, he releases something every four months and whoever's on it, it's a banger...
"I just don't think of myself like that… I feel a douche talking about myself like that. I've been incredibly fortunate to work with the most talented of this present generation and also been making music consistently good with these people for a while, so it means people might check it out…" he tails off, evidently as uncomfortable talking about his heightened profile as he was comfortable donning hair curlers and camping it up with Bruno Mars for the 'Uptown Funk' video.
If being in the studio, either as a writer or producer – "I just get in where I fit in, to borrow an old hip hop expression" is how he describes his diverse range of skills – is the day job, even with those 6am finishes, this same thoroughness runs through his night job of running around the world as an internationally renowned DJ.
"I don't see it as a job at all," he smiles. "My whole life is about exposing and creating music that people haven't heard. There's no better feeling than pulling out a record that people haven't heard in a while, or pulling out a new one, and seeing the floor fill up."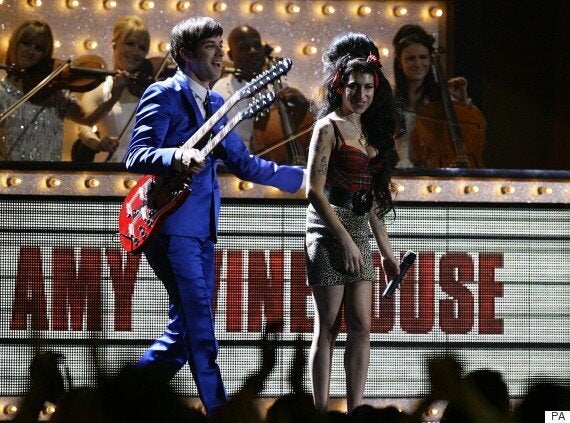 Mark Ronson with Amy Winehouse at the Brit Awards in 2008
It's for this reason that, for someone who takes music as seriously as Mark, there is no such thing as a 'guilty pleasure'.
"I DJ'd back to back in Australia recently," he reports, "and I was playing big hip hop records good for sweaty club. Then the other DJ would play something by Savage Garden, people would go flipping crazy, and that made me think twice.
"If it's something you like, there's no reason to be guilty about it. The more genre-less way we've consumed music in the past 15 years, it's eroded that sense of guilty. Everyone's flipping between the genres."
With so much critical and commercial acclaim to his name a month short of his 40th birthday, Mark Ronson could be forgiven for stopping, stepping off the beat for a while, enjoying his success. But he's having none of it.
"You're only as good as your last record," he says. "The only reason I've got to this place is not worrying too much about what's hot, and just doing things that are worthwhile. And when you do that, you're not going to hit it every time, but you make stuff that you can stand by."
And how will he recognise his next muse when he or she appears? He's not sure…
"I don't recognise the muses when they come in the room. I'd be lying if I said I knew straight away. But there are certainly a series of things that happen, you both start talking about some random obscure recording, 'oh, you like that…I like that too.'
"Sometimes it take a minute, or sometimes a lot longer to open up. It takes a lot of trust as well. And then the walls come down."
Mark Ronson has co-created Droppin' Science with Bose, innovators in sound. Watch the first three episodes above, exclusive to HuffPostUK. The series has six parts in total.