William Shatner reveals it's no burden, only a joy, meeting lifelong fans of 'Star Trek' but there's a particular moment when he can silence them with a few words.
William, whose name has been synonymous with the travels of the Starship Enterprise ever since he first played its Captain Kirk in 1966, tells HuffPostUK, it happens when the subject of the lasting significance of 'Star Trek' comes up, when he tells them his theories of what it means to them.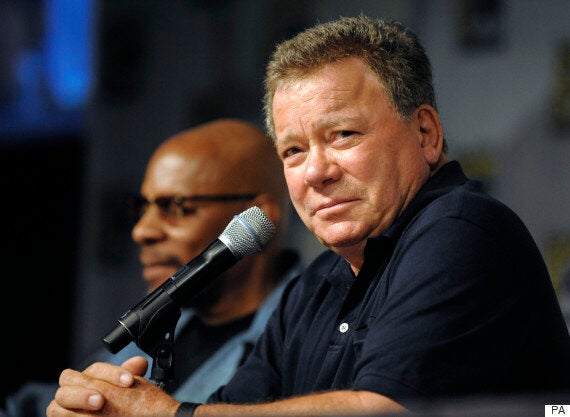 William Shatner shoots the breeze with 'Star Trek' fans
"I don't hold back," he chuckles. "There is an element of mythology, and perhaps the actors involved have now become part of the mythology. It's of science, escape and assurance, but also hope, and fable. It represents something very spiritual in a secular age.
"And then I stop talking, and I notice everyone's gone very quiet. There's a palpable silence, even at the conventions. It gets very intense."
It's a fascination shared by William, who has previously written a series of books chronicling his experiences playing Captain Kirk and being a part of 'Star Trek', and has co-written several novels set in the Star Trek universe.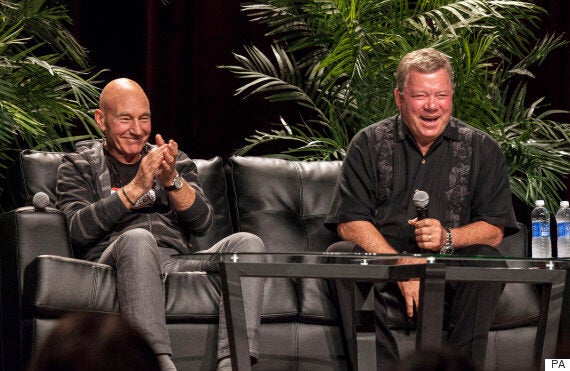 All one big happy Star Trek family.... William with Patrick Stewart aka Captain Jean-Luc Picard
His latest project is 'Chaos from the Bridge', a documentary he's written, directed and produced about the behind-the-scenes bedlam that went into the creation of 'Star Trek The Next Generation', the spin-off series starring Patrick Stewart as the spaceship's Captain Jean-Luc Picard.
By now, you'd think there'd be nothing left for William Shatner to learn about the goings-on, but not a bit of it. He describes a jaw-dropping moment when the head of the studio pulled off surely one of TV's greatest bluffs (which I'm not going to spoil for people planning to watch, but it's definitely a goodie!). William agrees the smooth final screen product belies the utter mayhem going on behind closed doors on the lot…
"In fact, it was so chaotic, my working title was 'WhackyDoodle'," he reveals. "But the studio wanted something else, and…" he shrugs "it's their money."
This year is one year short of a half-century since William Shatner first laid eyes on the Enterprise, and it's not without sadness, following the death of Leonard Nimoy, who played Kirk's longtime companion in adventure.
Only earlier this week, William posted on Twitter the remarkable result of his collection of thousands of his Twitter followers, snapped doing Spock's unique Vulcan salute.
Fortunately, William's own spirit is strong, his curiosity undimmed. As he tells HuffPostUK, he continues to seek his own sense of the world beyond his own...
"There are adventures to be had physically and mentally," he says happily.
"I've always been inquisitive. And this role means I've been freed to accept and receive opportunities beyond anything I dreamed of. I sign an autograph, and then someone tells me, 'We've made a bike - would you like to go on it?' How can I refuse?"
'William Shatner Presents: Chaos on the Bridge' is available on digital platforms in the UK and USA now. Watch the trailer below...
Related