The wreckage of an Indonesian plane has been found in the Papua district of Oktabe, officials have said.
The Trigana Air plane, carrying 54 people, had gone missing earlier on Sunday after flying over the mountainous district.
The ATR42-300 twin turboprop plane was carrying 49 passengers and five crew members on the scheduled 42-minute journey.
The plane reportedly crashed into a mountain and the wreckage was found by villagers.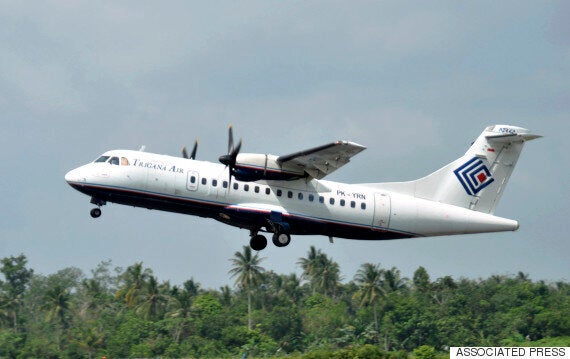 A plane that is the same model as the one that disappeared
"Residents provided information that the aircraft crashed into Tangok mountain," the director-general of Indonesia's Transportation Ministry said.
Residents of Okbape village in Papua's Bintang district told local police that they saw a plane flying low before crashing into a mountain, said Susanto, the head of Papua's search and rescue agency.
He said about 150 rescuers were heading to the remote area, which is known for its dense forest and steep cliffs, and would begin searching for the plane early on Monday.
Much of Papua is covered with impenetrable jungles and mountains. Some planes that have crashed there in the past have never been found.
Dudi Sudibyo, an aviation analyst, said that Papua is a particularly dangerous place to fly because of its mountainous terrain and rapidly changing weather patterns.
"I can say that a pilot who is capable of flying there will be able to fly an aircraft in any part of the world," he said.
Indonesia has had its share of airline woes in recent years. The sprawling archipelago nation of 250 million people and some 17,000 islands is one of Asia's most rapidly expanding airline markets, but is struggling to provide enough qualified pilots, mechanics, air traffic controllers and updated airport technology to ensure safety.
From 2007 to 2009, the European Union barred Indonesian airlines from flying to Europe because of safety concerns.
Last December, all 162 people aboard an AirAsia jet were killed when the plane plummeted into the Java Sea as it ran into stormy weather on its way from Surabaya, Indonesia's second-largest city, to Singapore.
That disaster was one of five suffered by Asian carriers in a 12-month span, including Malaysia Airlines Flight 370, which went missing in March 2014 with 239 people aboard during a flight from Kuala Lumpur to Beijing.
Trigana Air Service, which commenced operations in 1991, had 22 aircraft as of December 2013 and flies to 21 destinations in Indonesia.
Popular in the Community