American funny man and now ex-Daily Show presenter Jon Stewart has taken on his toughest assignment yet - taking on WWE's heavyweight boxer John Cena.
Stewart hosted the annual 'SummerSlam' event held on Sunday night in Brooklyn, New York, bringing his unique brand of wit and humour to the night, watched by millions the world over.
"No. Sleep. Till. Brooklyn," Stewart shouts as he opens the show, "We are here for an historic show ladies and gentlemen, ten of the best bouts you will ever witness will happen in Brooklyn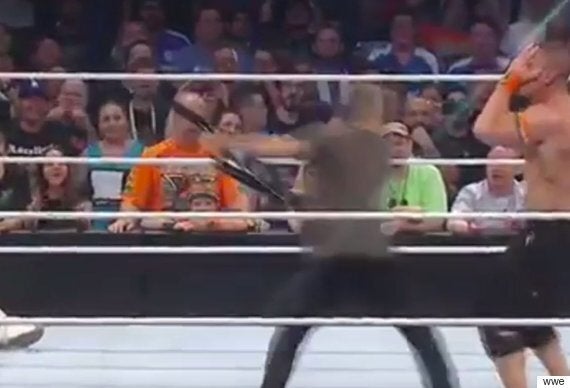 Stewart unexpectedly entered the ring during the highly anticipated Cena v Rollins bout
"I've spent the last sixteen years talking about politics, it's nice to be back in reality.
"And let me tell you the difference: the WWE performers you see here tonight respect their audience."
And during a special bout between Cena and reigning champion Seth Rollins, Stewart launched into the ring brandishing a chair, holding his own against-all-odds.
In a pre-match encounter, another wrestling legend, Paul 'Heyman Hustle', is schooled by Stewart besides the green room. But Stewart's famous wit is matched, as Heyman Hustle quips: "I guess we couldn't get David Letterman to host the show."
Popular in the Community