Martin, star of 'The Hobbit' and TV series 'Fargo' said yesterday that he'd attended a recent performance of Hamlet at the Barbican, and had only good things to say.
"He was really good, very clear," was his verdict. "He made Shakespeare accessible."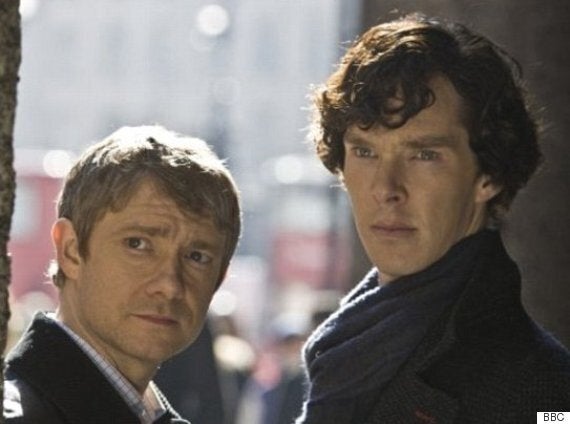 Martin with co-star Benedict Cumberbatch in 'Sherlock'
Martin joked that he hadn't had to pay for a ticket to the show - a reference to the fact that Benedict's version of Hamlet has become the fastest-selling show in the Barbican's history.
And he said he was repaying the support. His 'Sherlock' co-star had previously been to watch him perform in Richard III at London's Trafalgar Studios last year.
Benedict's performance got the thumbs-up from critics earlier this week as well, although a few said he was let down by the production around him.
The Times called him "thrillingly charismatic", but the Guardian's Michael Billington complained "he might have given us infinitely more, if he were not imprisoned by a dismal production that elevates visual effects above narrative coherence and exploration of character."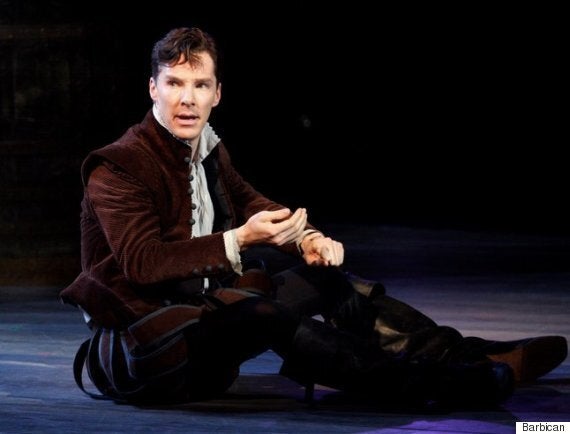 Benedict Cumberbatch's 'Hamlet' has received mixed reviews, although mostly praise for him
Speaking at the Edinburgh TV Festival, Martin Freeman also described his first audition for global hit 'Sherlock', admitting: "I went in for it and apparently I did a terrible audition."
Freeman said they thought he was a "moody prick", who seemed reluctant to be in the show.
"I might well have been a moody prick but I really did want it," he said. Fortunately, for him, his next audition was with Benedict Cumberbatch, the pair found their chemistry, the pilot was a success and TV history was made.
However, he had another initial reservation, he admitted. When the BBC said they wanted to make a 90-minute show, he thought: "These fools ... what's wrong with an hour? They're going to ruin it."
He said he thought it seemed "a bit silly", but added that he was "happily, extremely wrong".
Martin was speaking at the Festival, where he was due to collect an achievement award on behalf of producer Beryl Vertue. Beryl is the executive producer of Martin's show 'Sherlock', as well as the mother-in-law of show runner Steven Moffat. Martin explained ahead of the awards ceremony, that it was always a delight for him to listen to Beryl's stories and be reminded that she was a connection between him and one of his great comic heroes, Tony Hancock. In her previous work as an agent, Beryl managed Hancock as well as Frankie Howerd, and comedians Spike Milligan and Eric Sykes.
Martin also reflected on his career so far, which has taken him from 'The Office' to 'Sherlock', big screen success with 'The Hobbit' and overseas stardom in 'Fargo'. He told Mark Lawson, "I can only go on whether a script interests me. There's no way of knowing whether it's going to be a hit, because there are so many factors."